Real author: Andrey Mishustin
The Expert Advisor calculates the maximum lot size that can be used to open a position using the entire free margin available on the deposit. The calculated value is displayed in the upper right chart corner by default.
This Expert Advisor was first implemented in MQL4 and published in Code Base at mql4.com on 21.06.2012.
Expert Advisor input parameters:
//+------------------------------------------------+ 
//|  Expert Advisor input parameters               |
//+------------------------------------------------+ 
input ENUM_POSITION_TYPE PosType=POSITION_TYPE_BUY;    // Position type
//---- indicator display settings
input string Symbols_Sirname="MAX_LOT_Label_";         // Name for the indicator labels
input color IndName_Color=clrMediumSlateBlue;          // Indicator color
input uint Font_Size=15;                               // Indicator font size
input uint X_=15;                                      // Horizontal offset
input int Y_=15;                                       // Vertical offset
input ENUM_BASE_CORNER  WhatCorner=CORNER_RIGHT_UPPER; // Display corner
//+------------------------------------------------+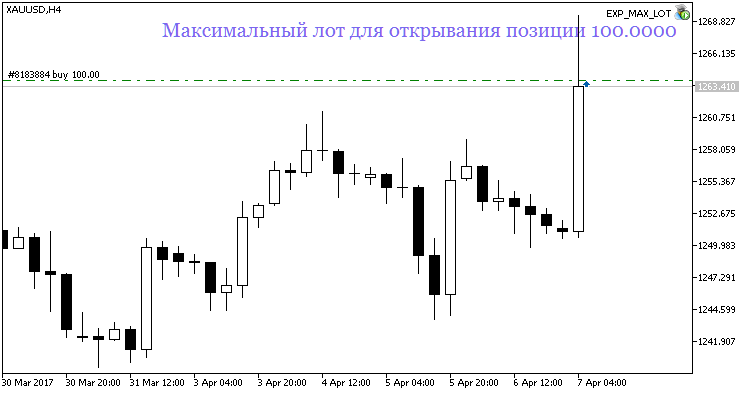 Fig1. The EXP_MAX_LOT EA on the chart