ADXm – indicator for MetaTrader 5
Platform: Metatrader5
Currency pairs: Any pairs, indices and metals
Trading Time: Around the clock
Originally this indicator was developed for MetaTrader 4 by ANG3110 (it was originally posted here : https://www.mql5.com/en/code/7566 )
---
Here I would like to quote the original description :
Unlike the traditional ADX indicator, where the ADX itself is plotted
in absolute units and detection of the trend direction is hindered,
this indicator clearly displays the positive and negative ADX half-waves
(displayed as colored on the chart). And the DI+/- signals are
displayed as their difference (gray).

The method of using this indicator is the same as the traditional one.

In addition, it displays the levels (dashed), above which the market
is considered to be in a trend state. This level is usually set to
approximately 20-25 percents, – somewhat depends on the time frame it is
used on.
In addition, apart of being MetaTrader 5 version, this version is deviating from the original in the fact that it allows you to chose any price(s) (out of the 22 types) for calculation — the original uses fixed high, low and close prices hard-coded in the indicator, since it seems to be a useful addition to this good indicator.
As described, levels should be used to determine the trend (or, for counter trend traders, retracing into the "no trend zone" can be treated as a possible reversal signal/point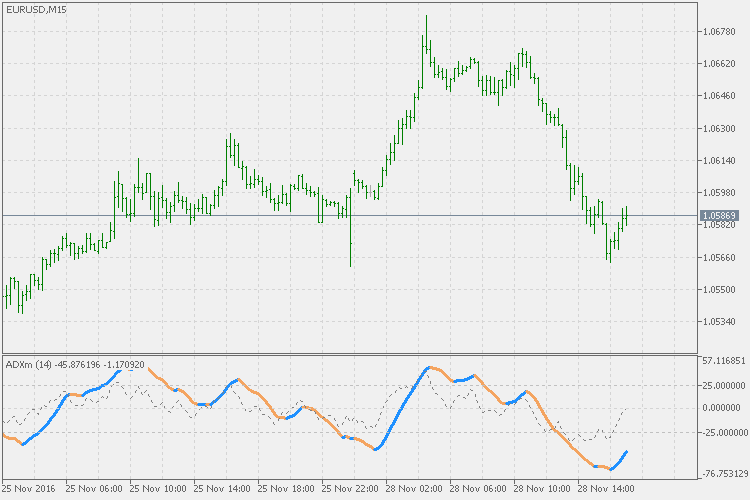 How to install MT5 indicator?
1. On the desktop, double-click to open the MT45 trading platform software you installed.
2. Click on "File" in the upper left corner – "Open Data Folder", double-click the MQL5 folder, and double-click the Indicators folder
3. Copy the metrics you need to install to the Indicators folder
4. Open MT5, find "Navigator" in the display menu, then click "Technical Indicators" of "Navigator" and right click to refresh, you will see the indicator just copied.
5. In the "Technical Indicators" of "Navigator", find the indicator file just installed, double click or click manually to the chart window