Aroon oscillator – dynamic zones (levels) – indicator for MetaTrader 5
Platform: Metatrader5
Currency pairs: Any pairs, indices and metals
Trading Time: Around the clock
Aroon oscillator is usually not associated with to much flexibility. It is its nature.
---
This version is breaking that. Instead of using fixed levels to find out trends / overbought / oversold conditions, this version is introducing dynamic levels in order to change that rigidness. Levels are calculated using quantile bands (some more information on quantile calculation can be found here: https://en.wikipedia.org/wiki/Quantile) and that changes the way how Aroon oscillator behaves significantly.
Entries (and exists) are signaled much faster and, with some parameters experimenting, it can be fine tuned to work in a ways that Aroon oscillator never could be used.
---
Indicator can use any price combination(s) for calculation (original Aroon oscillator could use only high an low), is multi time frame and already has all the usual alerts built in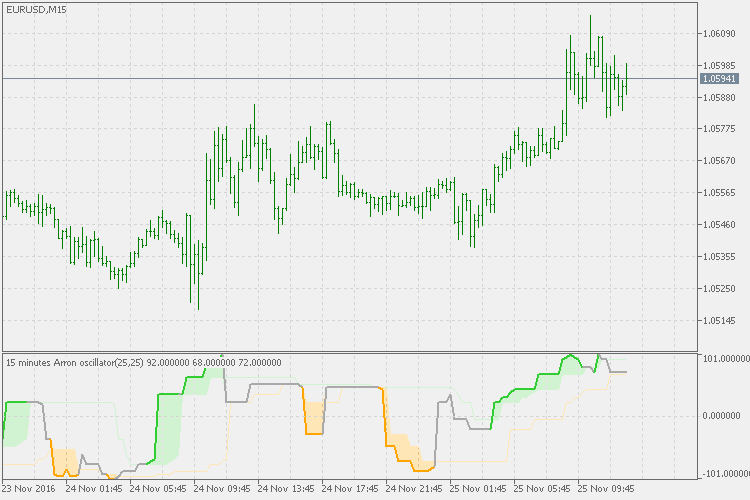 How to install MT5 indicator?
1. On the desktop, double-click to open the MT45 trading platform software you installed.
2. Click on "File" in the upper left corner – "Open Data Folder", double-click the MQL5 folder, and double-click the Indicators folder
3. Copy the metrics you need to install to the Indicators folder
4. Open MT5, find "Navigator" in the display menu, then click "Technical Indicators" of "Navigator" and right click to refresh, you will see the indicator just copied.
5. In the "Technical Indicators" of "Navigator", find the indicator file just installed, double click or click manually to the chart window