Aroon Oscillator – indicator for MetaTrader 4
Platform: Metatrader4
Currency pairs: Any pairs, indices and metals
Trading Time: Around the clock
The oscilator rapidly discovers the end of the price trend and the beginning of the price movement in a horizontal interval and reverse. The Aroon Oscillator is calculated as a difference between the Aroon Up and the Aroon Down. The strongly rising trend is expected when the value of the Aroon Oscillator is between 40 and 100. The intense descending trend can be expected when the Aroon Oscillator keeps its values between -40 and -100.
A simple and clear decision making while working with the Aroon Oscillator is: buy when the oscillator moves from the negative region to the positive one, sell in the opposite situation.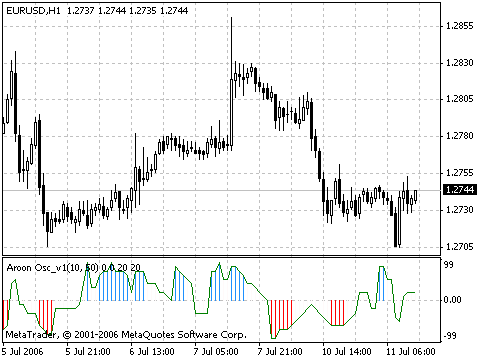 How to install MT4 indicator?
1. On the desktop, double-click to open the MT4 trading platform software you installed.
2. Click on "File" – "Open Data Folder" in the upper left corner, double-click the MQL4 folder, and double-click the Indicators folder
3. Copy the metrics you need to install to the Indicators folder
4. Open MT4, find "Navigator" in the display menu, then click "Technical Indicators" of "Navigator" and right click to refresh, you will see the indicator just copied.
5. In the "Technical Indicators" of "Navigator", find the indicator file just installed, double click or click manually to the chart window