BoDi – indicator for MetaTrader 5
Platform: Metatrader5
Currency pairs: Any pairs, indices and metals
Trading Time: Around the clock
Real author:
paladin80
The principles of plotting this indicator, calculation formula, interpretation, algorithm for Expert Advisors and suggested parameters are described in the Forex Magazine №438.
This indicator is calculated as the difference between the upper and lower Bollinger Bands. You may find that during upward or downward impulse movement of the price the bands expand (the difference between them increases), and when the movement fades they narrow (the difference decreases). In my opinion, it is impossible to use this for determining the start of the movement, as it becomes evident only at the end.
Narrowing of the Bollinger Bands channel often coincides withe the moment of lull in the battle between bears and bulls, and this last moment can be utilized for searching the end point of the movement. The BoDi indicator displayed in a separate window of the chart as a histogram.
This indicator was first implemented in MQL4 and published in CodeBase at mql4.com on 17.08.2012.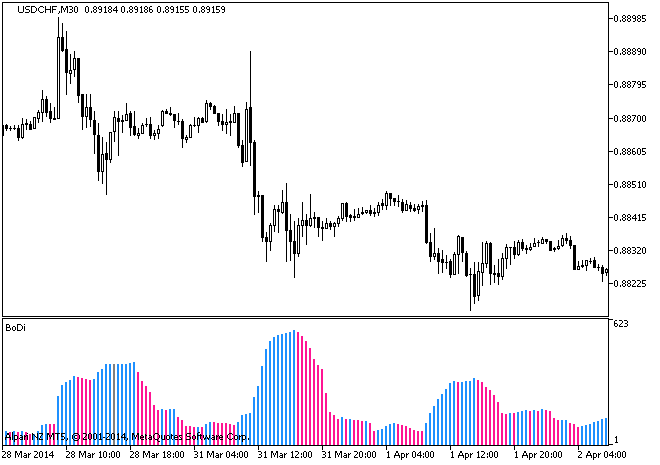 Fig1. The BoDi indicator
How to install MT5 indicator?
1. On the desktop, double-click to open the MT45 trading platform software you installed.
2. Click on "File" in the upper left corner – "Open Data Folder", double-click the MQL5 folder, and double-click the Indicators folder
3. Copy the metrics you need to install to the Indicators folder
4. Open MT5, find "Navigator" in the display menu, then click "Technical Indicators" of "Navigator" and right click to refresh, you will see the indicator just copied.
5. In the "Technical Indicators" of "Navigator", find the indicator file just installed, double click or click manually to the chart window