CCI – experiment extended – indicator for MetaTrader 5
Platform: Metatrader5
Currency pairs: Any pairs, indices and metals
Trading Time: Around the clock
CCI "experiment" with a few things added that can completely modify the way CCI is calculated.
---
This version can be :
adaptive (using VHF – vertical horizontal filter – for adapting)
or
"regular" CCI (no adapting).
Prices can be filtered – using one of the 4
basic average types :
simple moving average
exponential moving average
smoothed moving average
linear weighted moving average
or "raw" (when there is no price smoothing prior to cci calculation).
There is a choice of :
floating levels
quantile levels
or no
levels
Coloring can be chosen :
based on outer levels
based on middle
level
or based on cci slope
Indicator is made multi time frame and with alerts (that are synchronized with colors change) already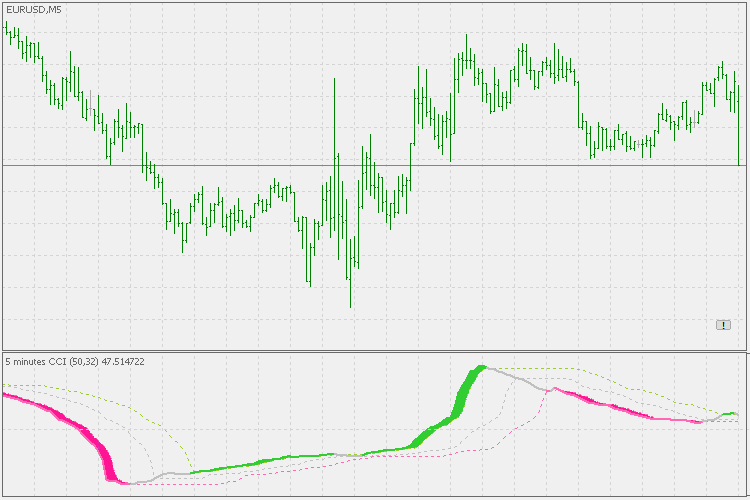 How to install MT5 indicator?
1. On the desktop, double-click to open the MT45 trading platform software you installed.
2. Click on "File" in the upper left corner – "Open Data Folder", double-click the MQL5 folder, and double-click the Indicators folder
3. Copy the metrics you need to install to the Indicators folder
4. Open MT5, find "Navigator" in the display menu, then click "Technical Indicators" of "Navigator" and right click to refresh, you will see the indicator just copied.
5. In the "Technical Indicators" of "Navigator", find the indicator file just installed, double click or click manually to the chart window