Corr momentum – indicator for MetaTrader 5
Platform: Metatrader5
Currency pairs: Any pairs, indices and metals
Trading Time: Around the clock
Corrected momentum indicator.
---
If the period of the
"correction" is set to <0, then the calculated value is the same as
the momentum (if you compare it to the built in momentum, add 100 to it
and then the values are going to be exactly the same).
In any
case, the "correction" was added to the momentum in order to filter out
many false signals that momentum tends to have (if you try to use
momentum based on the slope, it will lead you to anything but usable
indicator – the "corrected" method changes that and turns the momentum
indicator into a much more usable indicator).
Alerts are included already. Depending on color choice the alerts are triggered too. Possible color /alert choices are:
on outer level cross
on middle level cross
on slope change
on original momentum value cross (when "corrected" value is used as a kind of a signal line compared to original value)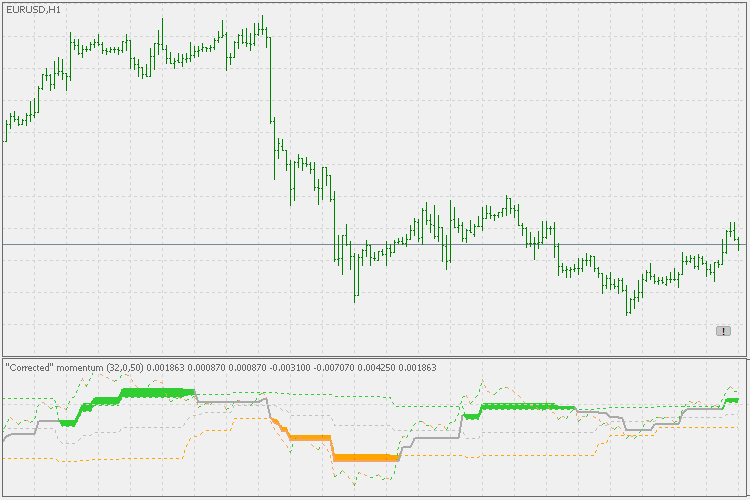 As usual, some experimenting advised with the parameters. Defaults are set to roughly turn momentum indicator into momentum (and) short term trend combination: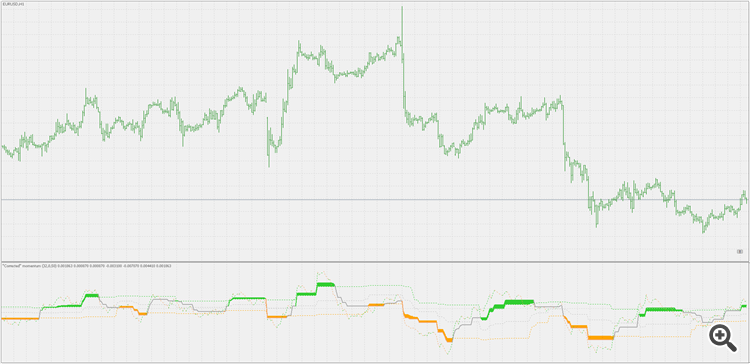 How to install MT5 indicator?
1. On the desktop, double-click to open the MT45 trading platform software you installed.
2. Click on "File" in the upper left corner – "Open Data Folder", double-click the MQL5 folder, and double-click the Indicators folder
3. Copy the metrics you need to install to the Indicators folder
4. Open MT5, find "Navigator" in the display menu, then click "Technical Indicators" of "Navigator" and right click to refresh, you will see the indicator just copied.
5. In the "Technical Indicators" of "Navigator", find the indicator file just installed, double click or click manually to the chart window