DiNapoli Price Oscillator – indicator for MetaTrader 4
Platform: Metatrader4
Currency pairs: Any pairs, indices and metals
Trading Time: Around the clock
There is possibility to:
choose amount of bars to calculate the formula
choose type of average, which is used in counting
choose price (open, close, high, low), which is used in counting
choose shift of average
calculate and display overbought and oversold levels (60% and 100%)
Levels are counted using special formula, which is used standard deviation function. However levels are displayed correctly and results are the same as results received using manual methods. Level factors were specially selected and are the most suitable to use.
Requirements:
'Show object description' option must be enabled
If two indicators have to be displayed in one window, DPO should be added as first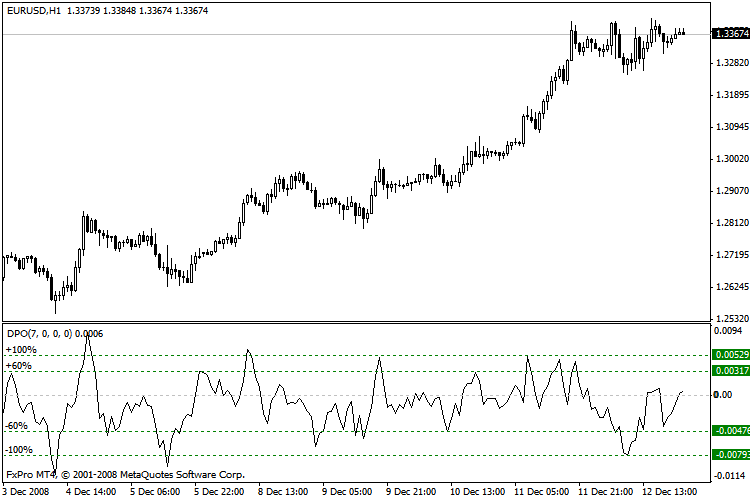 DPO example
I apologize for my bad English.
How to install MT4 indicator?
1. On the desktop, double-click to open the MT4 trading platform software you installed.
2. Click on "File" – "Open Data Folder" in the upper left corner, double-click the MQL4 folder, and double-click the Indicators folder
3. Copy the metrics you need to install to the Indicators folder
4. Open MT4, find "Navigator" in the display menu, then click "Technical Indicators" of "Navigator" and right click to refresh, you will see the indicator just copied.
5. In the "Technical Indicators" of "Navigator", find the indicator file just installed, double click or click manually to the chart window