Double smoothed stochastic – indicator for MetaTrader 5
Platform: Metatrader5
Currency pairs: Any pairs, indices and metals
Trading Time: Around the clock
The double smoothed stochastic that is usually found is
using EMA (exponential moving average) for calculation. This version is a sort of deviation from
that. Default does use ema for calculation, but it allows you to chose
among the 4 types of averages for (double) smoothing. That way we can get a completely new double smoothed stochastic types :
SMA double smoothed stochastic
EMA double smoothed stochastic(the default)
SMMA double smoothed stochastic
LWMA double smoothed stochastic
Any combination of prices usage (internally it orders the
prices so that they are "usable" in calculation). With all that, quite a
few new versions of double smoothed stochastic can be produced
(including a sort of a "raw stochastic" that can be produced when both
smoothing periods are set to <= 1)
---
Usually double smoothed stochastic is used as an over-bought and oversold type of indicator, but, with longer periods of stochastic calculations, it might be good to revise that point of view and check for reversal conditions too. Experimenting is advised in any case : as with any indicator, there is no universal setting that will fit all the symbols, so some adjustments are necessary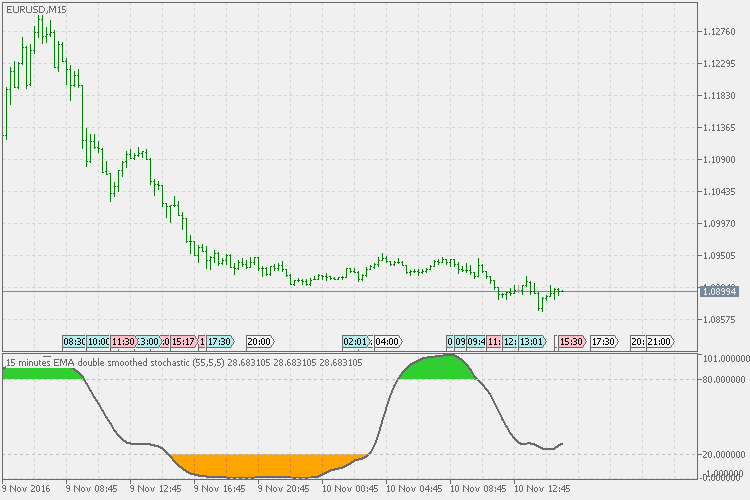 How to install MT5 indicator?
1. On the desktop, double-click to open the MT45 trading platform software you installed.
2. Click on "File" in the upper left corner – "Open Data Folder", double-click the MQL5 folder, and double-click the Indicators folder
3. Copy the metrics you need to install to the Indicators folder
4. Open MT5, find "Navigator" in the display menu, then click "Technical Indicators" of "Navigator" and right click to refresh, you will see the indicator just copied.
5. In the "Technical Indicators" of "Navigator", find the indicator file just installed, double click or click manually to the chart window