Double stochastic RSI – fl – indicator for MetaTrader 5
Platform: Metatrader5
Currency pairs: Any pairs, indices and metals
Trading Time: Around the clock
Double stochastic of RSI using floating levels instead of using fixed levels for overbought or oversold detection.
In case when RSI period is set to <=1, you are going to get double stochastic.
Additional smoothing of a results can be used (internally EMA is used for additional smoothing). The usual set of 22 custom prices types is available.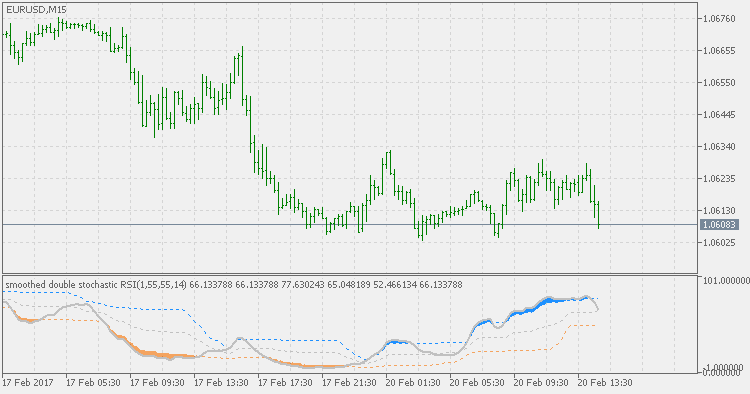 PS: the indicator should not be confused with double smoothed stochastic. This is double stochastic and the results are different from the double smoothed stochastic indicator.
How to install MT5 indicator?
1. On the desktop, double-click to open the MT45 trading platform software you installed.
2. Click on "File" in the upper left corner – "Open Data Folder", double-click the MQL5 folder, and double-click the Indicators folder
3. Copy the metrics you need to install to the Indicators folder
4. Open MT5, find "Navigator" in the display menu, then click "Technical Indicators" of "Navigator" and right click to refresh, you will see the indicator just copied.
5. In the "Technical Indicators" of "Navigator", find the indicator file just installed, double click or click manually to the chart window