Dsl – DMI oscillator – indicator for MetaTrader 5
Platform: Metatrader5
Currency pairs: Any pairs, indices and metals
Trading Time: Around the clock
DMI oscillator version of dsl (discontinued signal lines) family of indicators.
DMI short description ‌(since it is not widely known).
DMI OSCILLATOR
Within
the suite of indicators that make up Wilder's directional movement
index (DMI) are the plus directional movement indicator (+DI) and the
minus directional movement indicator (-DI). They provide the foundation
for the more widely recognized average directional index (ADX). Whereas
the ADX offers information about the strength of price movement but not
its direction, the +DI and -DI furnish information about the positive or
negative direction of price movement over a period of time.
Wilder
provides complete information about the function and construction of
all the components that make up the directional movement index in his
1978 book, New Concepts In Technical Trading Systems. In
general, the plus and minus components of the DMI focus on that portion
of the current bar's trading range that is outside the range of the
previous price bar. If it is higher, it is considered to be positive (+)
and if it is lower, it is labeled negative (-). These values are
divided by the true range and averaged over time, usually 14 periods. A
move by the +DI above the -DI indicates that positive or upward price
direction has overtaken negative or downward price direction.
Conversely, when +DI falls below -DI, declining price either from
selling pressure or lack of upward price momentum is taking control.
Potential changes in direction or trend occur when the lines intersect.
‌As
with all the dsl indicators, it can be used both in trend and counter
trend trading, but the dsl in this case can add to momentum strength
estimation too.
‌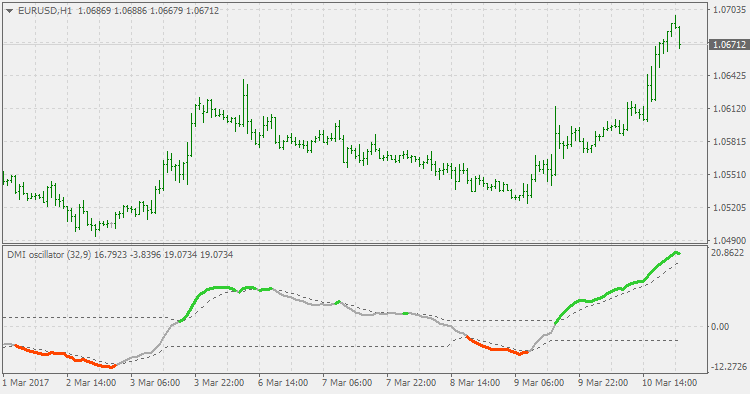 How to install MT5 indicator?
1. On the desktop, double-click to open the MT45 trading platform software you installed.
2. Click on "File" in the upper left corner – "Open Data Folder", double-click the MQL5 folder, and double-click the Indicators folder
3. Copy the metrics you need to install to the Indicators folder
4. Open MT5, find "Navigator" in the display menu, then click "Technical Indicators" of "Navigator" and right click to refresh, you will see the indicator just copied.
5. In the "Technical Indicators" of "Navigator", find the indicator file just installed, double click or click manually to the chart window