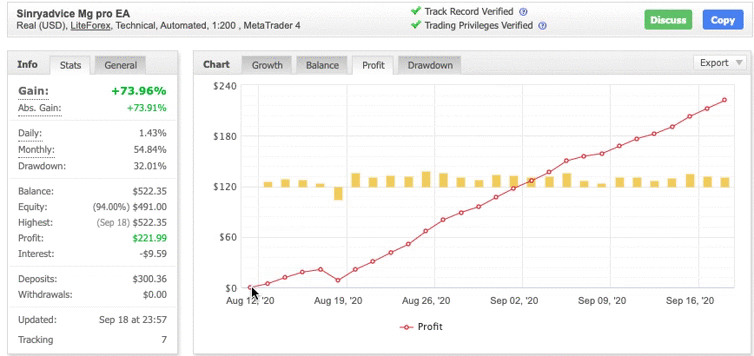 EA G12 PRO Description :
" Steady profit in your trading with the most trusted and downloaded tool in 2020 that generate 74% win rate. "
MG Pro Expert Advisor
Is a fully automated robot for forex trading with inner smart indicators which analyse the market in many aspect and place trades.
A preprogrammed robot won't make the mistakes you do.
MG PRO EA process more data than humans, without emotional decisions.
Live and verified Past Performance
Below are 2 accounts in myfxbook
First is small account with minimum fund to start 500 usd :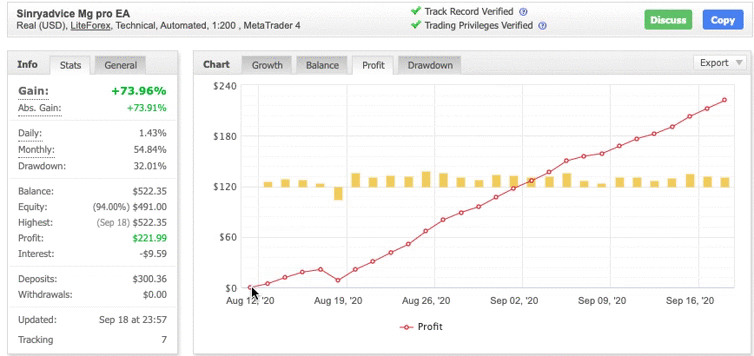 How it Works?
It Analyses the market and open and close trades in profit on autopilot.
MG Pro EA is one of the Smartest Forex trading robot, it has 12 inner indicators to analyse the market, price action, support and resistance, trend line and many more info. It opens and close trade automatically and once you run it you don't need to do any other works.
This EA is our top rates forex robot which helps you to trade and make profit with lowest risk, without spending hours on screen and watching the market. It really feels great to check your phone daily and see a robot trade and make profit for you.
FAQ
1- How to trust and select a good EA?

In order to trust an EA you need to check its live results, trading statements and backtest. One of the most trustworthy platform to analyse performance is MYFXBOOK.com, where you can see all these info. Mg pro Ea has live account in myfxbook where you can check it out here: MYFXBOOK RESULT
2- How to install and does it open and close trade?
Installation is simple and explained in 5 min video, once installation is done the rest is fully automatic, the EA is smart and open and close trades in profit on autopilot.

3- Does it needs high level of expertise to install and use it?

Its doesnt need because we have shown step to step on how to use and setup the indicator in a video which is in the product page of Mg Pro EA.
4- How does the EA works ?

Mg pro EA has 12 inner indicators which analyse market in different aspects and place trades base on them, it doesn't do martingale and all trades are base on market evaluation. This is one of smartest EA 2020.

5- How if I don't make profit with it?

MG pro EA has given exact setting which you need to follow and apply to run it. Therefore if you don't make profit you and not satisfied with promised result you can apply for 100% REFUND.