Ehlers inverse fisher transform of RSI – indicator for MetaTrader 5
Platform: Metatrader5
Currency pairs: Any pairs, indices and metals
Trading Time: Around the clock
Ehlers inverse Fisher transform of RSI.
---
This version can calculate the inverse Fisher transform of :
Regular RSI
Cuttler's RSI
Haris' RSI
Rapid RSI
RSX
Slow RSI
Choice of floating or fixed levels is available. If you set the floating levels period to <=1, then fixed levels are calculated. In case when the period for floating levels is set to > 1, floating levels are calculated. According to those levels you can chose the way how the colors will be changed/adjusted and accordingly how and when alerts are going to be triggered. Along with multi time framing usual set of alerts (alert messages, sounds, emails, push notifications on still opened or first closed bar) are available.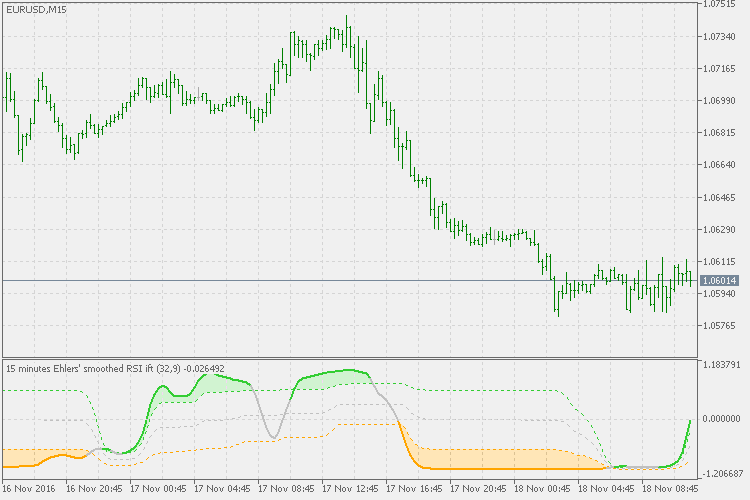 As inverse Fisher transform of RSI is designed to enhance the extremes (overbought and oversold zones), in combination with floating levels and in combination with all the different types of RSI, this version allows faster and cleaner trend detection and identification. With additional smoothing, false signals can be avoided. As with any other indicator some experimenting with parameters is advised (in order to find optimal settings for symbol/time frame pair).
How to install MT5 indicator?
1. On the desktop, double-click to open the MT45 trading platform software you installed.
2. Click on "File" in the upper left corner – "Open Data Folder", double-click the MQL5 folder, and double-click the Indicators folder
3. Copy the metrics you need to install to the Indicators folder
4. Open MT5, find "Navigator" in the display menu, then click "Technical Indicators" of "Navigator" and right click to refresh, you will see the indicator just copied.
5. In the "Technical Indicators" of "Navigator", find the indicator file just installed, double click or click manually to the chart window