Exp_CandlesticksBW_Tm – expert for MetaTrader 5
The Exp_CandlesticksBW_Tm Expert Advisor is based on the color change of the CandlesticksBW candlesticks and allows strictly define the trading time interval.
A trade signal is formed when a bar is closing, if the indicator color has changed, providing evidence for changing the current trend.
It is possible to specify trading time in input parameters to trade in the specified time interval:
input

 

bool

   TimeTrade=

true

;      input HOURS  StartH=ENUM_HOUR_0;  // Trading start (Hours)
input MINUTS StartM=ENUM_MINUT_0; // Trading start (Minutes)
input HOURS  EndH=ENUM_HOUR_23;   // Trading end (Hours)
input MINUTS EndM=ENUM_MINUT_59;  // Trading end (Minutes) 

Two variables for hours and minutes are provided for each of trading start and trading end times.
Default settings enable the Expert Advisor to trade the whole trading session from 0:00, while all positions are immediately closed at 23:59.
If the start time in the EA's settings is later than the specified trading end time, the EA will close the opened positions at the specified time next day.
For the EA to operate, the compiled CandlesticksBW.ex5 indicator file must be in the <terminal_data_directory>\MQL5\Indicators folder.
The EA default input parameters were used in tests below. Stop Loss and Take Profit were not used in testing.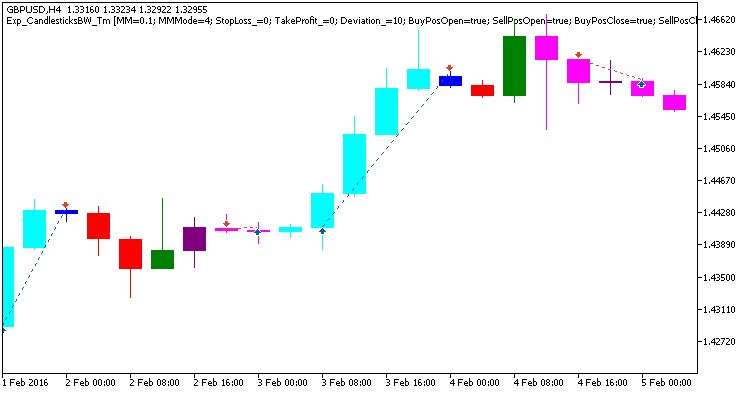 Fig.1. Example trades on the chart
Testing results for GBPUSD H4 over the year 2016: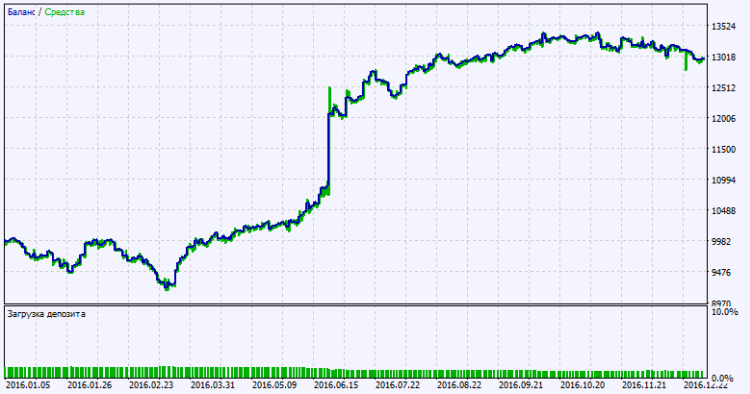 Fig.2. Testing results chart