Fibo ZigZag – indicator for MetaTrader 5
Platform: Metatrader5
Currency pairs: Any pairs, indices and metals
Trading Time: Around the clock
The Fibo ZigaZag indicator allows to calculate the probable support and resistance levels using the Fibonacci ratios.
The Indicator Algorithm
The indicator locates the subsequent Highs and Lows, finds the distance between them and lays off the percentages of this distance (23,6%, 38,2%, 50%, 61,8%) from peaks and bottoms. The calculation is performed when the minimum or maximum are completed. This indicator is a completely revised version of the standard ZigZag indicator.
Fields of application
The indicator can be used for setting the Stop Loss and Take Profit, partially fixing profit. The indicator may also be of interest to traders who use the Joe DiNapoli system.
The Fibonacci levels may become good entry points in averaging experts.
Levels
23.6%
38.2%
50%
61.8 %
Indicator Parameters
ExtDepth — The number of candles used to identify High or Low The main parameter.
ExtDeviation — Minimum deviation in points.
InpBackstep — The number of extremums used for recalculation.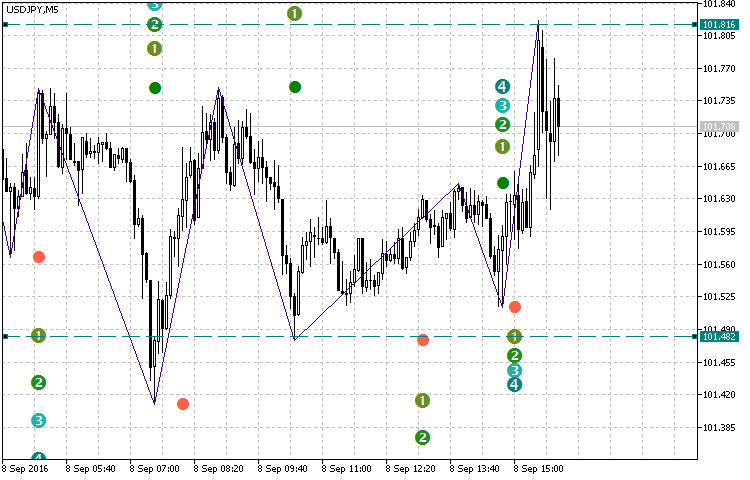 How to install MT5 indicator?
1. On the desktop, double-click to open the MT45 trading platform software you installed.
2. Click on "File" in the upper left corner – "Open Data Folder", double-click the MQL5 folder, and double-click the Indicators folder
3. Copy the metrics you need to install to the Indicators folder
4. Open MT5, find "Navigator" in the display menu, then click "Technical Indicators" of "Navigator" and right click to refresh, you will see the indicator just copied.
5. In the "Technical Indicators" of "Navigator", find the indicator file just installed, double click or click manually to the chart window