Forex_Market_Hours_GMT_v4.0 – indicator for MetaTrader 5
The good old MT4 indicator! Now for MetaTrader 5.
Automatic summer time (DST) detection, and many improvements.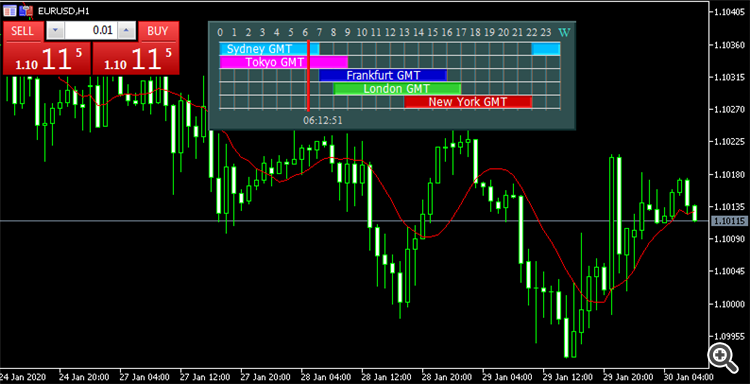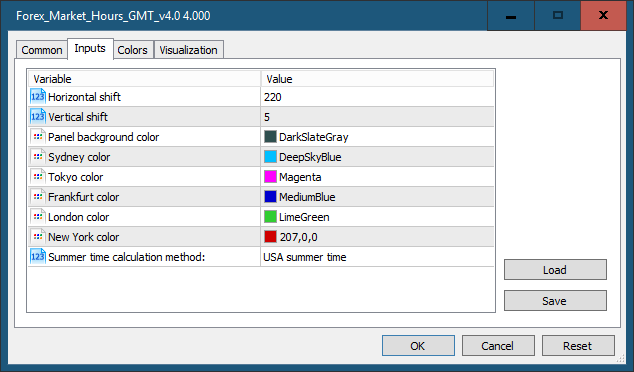 GMT and EST hours for trading Forex
Forex market welcomes traders 24 hours a day.
Forex market opens on Sunday 5 pm EST (10:00 pm GMT), closes on Friday 5 pm EST
(10:00 pm GMT).
Trading sessions according to GMT (Greenwich Mean Time):
https://www.forexmarkethours.com/
https://www.forexmarkethours.com/GMT_hours/02/
https://www.forexboat.com/forex-market-hours/
The Forex_Market_Hours_GMT_v4.0 indicator assumes local "wall clock" trading hours
of 8:00 AM – 5:00 PM in each Forex market, except in Tokyo it is 9:00 AM – 6:00 PM.
Holidays not included. Not intended for use as an accurate time source.
If you need the precise time, see https://www.markethours.net/forex-market-hours
The link to the original indicator on Forex Factory forum:
https://www.forexfactory.com/showthread.php?t=239188&page=7