Holt's double exponential smoothing – indicator for MetaTrader 5
Platform: Metatrader5
Currency pairs: Any pairs, indices and metals
Trading Time: Around the clock
The name of the indicator might be a bit misleading. Holt's double exponential smoothing is mostly used for forecasting, not as an average. The forecasting method usually used with it is a sort of linear forecasting.
– Double Exponential Smoothing
Like the
regression forecast, the double exponential smoothing forecast is based
on the assumption of a model consisting of a constant plus a linear
trend.

For the purposes of a forecast where the parameters of the
model may change, it is more convenient to express the model as a
function of , where is the positive displacement from a reference time
T.
The estimate a and b at time T are based in the observation at time T and the estimates for the previous period, T -1.
Here
we have both the constant and trend coefficients estimated by
exponential smoothing. The forecasting parameters, for the constant term
and for the trend term can be set independently. Both parameters must
be between 0 and 1.
The forecast for the expected value for
future periods is the constant plus a linear term that depends on the
number of periods into the future.

To make it usable in both manners though (as an average or as an "average" with forecasting), setting the number of forecasted bars to <= 0, turns the forecasting part off.
As
usual with the forecasting parts, it is strongly advised not to use it in signaling mode. The
forecasting part is a subject of change and should be used only as an
estimation of trend component of the double smoothing, not as signal.
Alerts in this indicator are not alerting on the change of the forecast
part, but on the change of the "past" part – which is not going to
change with time past.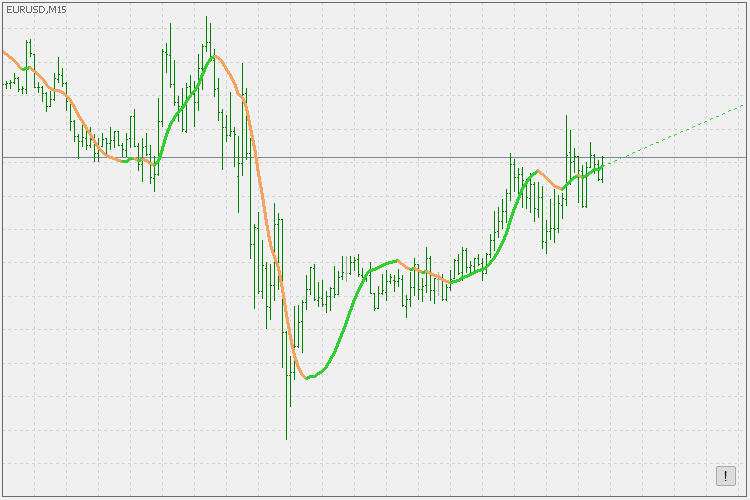 How to install MT5 indicator?
1. On the desktop, double-click to open the MT45 trading platform software you installed.
2. Click on "File" in the upper left corner – "Open Data Folder", double-click the MQL5 folder, and double-click the Indicators folder
3. Copy the metrics you need to install to the Indicators folder
4. Open MT5, find "Navigator" in the display menu, then click "Technical Indicators" of "Navigator" and right click to refresh, you will see the indicator just copied.
5. In the "Technical Indicators" of "Navigator", find the indicator file just installed, double click or click manually to the chart window