Kijun-Tenkan+ – indicator for MetaTrader 4
Platform: Metatrader4
Currency pairs: Any pairs, indices and metals
Trading Time: Around the clock
Just like the Kijun-sen+ indicator, it draws both lines forward on a specified number of periods. Periods and the number of periods for drawing forward are specified separately for each line in external parameters. I use it together with the Silver-channels. In a flat market, these lines rest, as a rule, because there are no new periods.
P.S. It is a new version dated 13.06.2006 (the error of drawing forward is corrected; the chart was drawn on 1 odd bar there).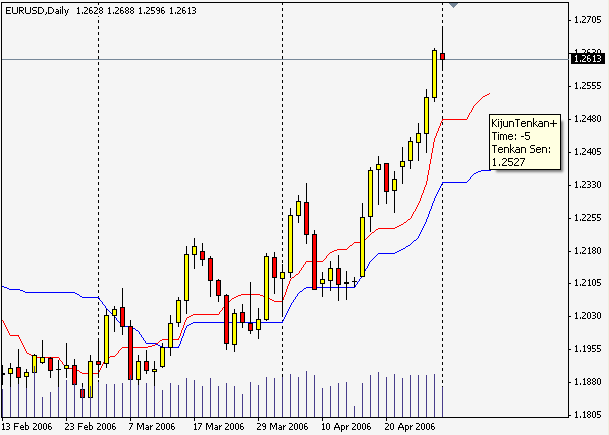 How to install MT4 indicator?
1. On the desktop, double-click to open the MT4 trading platform software you installed.
2. Click on "File" – "Open Data Folder" in the upper left corner, double-click the MQL4 folder, and double-click the Indicators folder
3. Copy the metrics you need to install to the Indicators folder
4. Open MT4, find "Navigator" in the display menu, then click "Technical Indicators" of "Navigator" and right click to refresh, you will see the indicator just copied.
5. In the "Technical Indicators" of "Navigator", find the indicator file just installed, double click or click manually to the chart window