LifeHack Balance Equity – indicator for MetaTrader 5
Platform: Metatrader5
Currency pairs: Any pairs, indices and metals
Trading Time: Around the clock
The indicator displays the balance and equity of the trade account.
This indicator is especially useful when used in the strategy tester. It visualizes the balance and equity: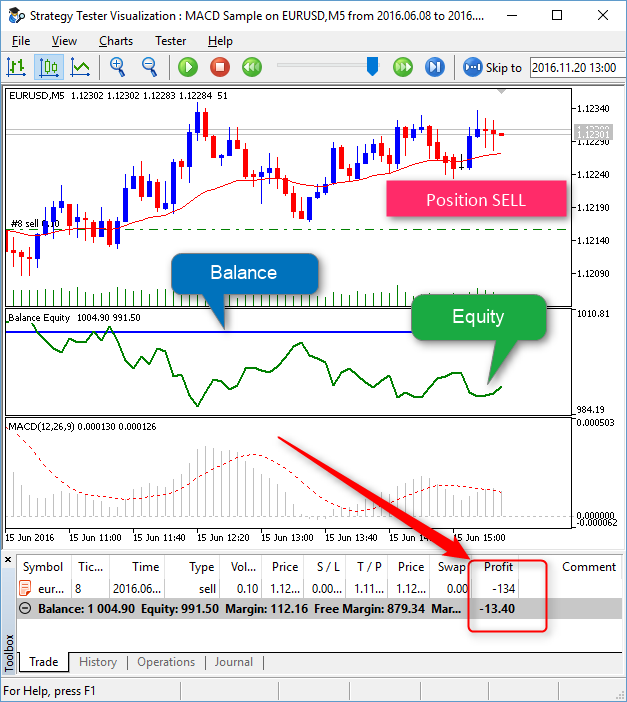 To apply the indicator in the tester, it should be included in the tester template "tester.tpl". This how it is done:
open any chart
clear the chart of unnecessary indicators, objects and experts (preferably all)
drag the "LifeHack Balance Equity" indicator to the chart
then right click on the chart — "Templates" — "Save Template …" — enter the name "tester.tpl".
Now the "LifeHack Balance Equity" indicator will be built into the Tester chart.
How to install MT5 indicator?
1. On the desktop, double-click to open the MT45 trading platform software you installed.
2. Click on "File" in the upper left corner – "Open Data Folder", double-click the MQL5 folder, and double-click the Indicators folder
3. Copy the metrics you need to install to the Indicators folder
4. Open MT5, find "Navigator" in the display menu, then click "Technical Indicators" of "Navigator" and right click to refresh, you will see the indicator just copied.
5. In the "Technical Indicators" of "Navigator", find the indicator file just installed, double click or click manually to the chart window