Martingale Smart – expert for MetaTrader 4
The "Martingale Smart" EA trades with 2 strategies , If we lose a trade then the EA will change strategy and take a new trade
with a multiplied/increased lot size,
This
Martingale EA can work with all pairs and all timeframes.
Best
timeframe is daily.
Start
with 0.01 lot.
TRY IT ON DEMO FIRST !
USEMOVETOBREAKEVEN system
functions like a stop loss
But
a one-time function with a smaller value than the subsequent
Stop
Loss value to lock minimal profit and avoid loss if the price goes against you.
If
you have reached a certain value of pips with the direction of the trade –
WHENTOMOVETOBE –
When to move break even (values: 10-100).
So
how many pips would you like to move the stop loss above the price line of the open trade-
PIPSTOMOVESL –
How much pips to move stop loss (values: 10-100).
This
EA trades only with the price of open candle!
You
need to perform back test with "open prices only" option,
Variables
USEMOVETOBREAKEVEN –
Enable "no loss" break even system (values: 0-1).
WHENTOMOVETOBE –
When to move break even (values: 10-100).
PIPSTOMOVESL –
How much pips to move stop loss (values: 10-100).
Multiply
– Multiply for Martingale (values: 2-4).
Lotsize
– Lot size (values: 0.01-10).
TrailingStop-set
a value from 10 to 100 to activate trailing stop loss & take profit, "0" will not activate trailing stop loss.
Stop_Loss
– Stop Loss pips distance (values: 10-100).
Take_Profit
– Take Profit pips distance (values: 10-100).
MA_period
– Moving Average period (values: 10-200).
MagicNumber
– Magic number (values: 1-100000).
Start
– Start hour(values: 0-24).
End
– End hour(values: 0-24).
Maximum_loss
– Maximum loss(values: 0-10)
WaitTime
– Wait time for loss in minutes (values: 0-999999)
How to perform back test:https://bit.ly/2CD7XWD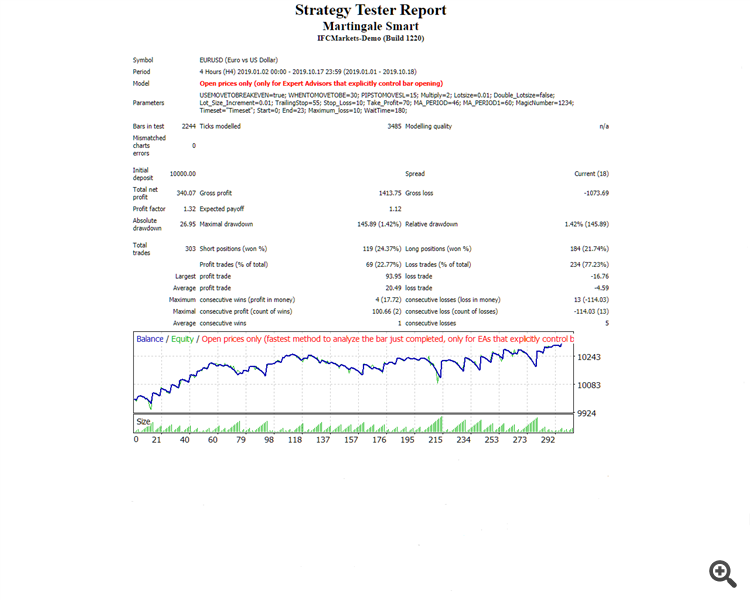 Platform: Metatrader4
Currency pairs: Any pairs, indices and metals
Trading Time: Around the clock
1. Open the MT4 trading software – "File" – "Open Data Folder" in the upper right corner
2, find the "MQL4" folder – "Experts", put the EA in this folder
3, need to refresh or restart the trading software to display EA, find "EA" in "Navigation" – "EA Trading"
4, find the EA you need to use, right click the mouse, select "attach to the chart" (additional chart: EA uses the currency to be linked, if you need to hang Europe and America, please attach to the AUDUSD chart)
5. After adding the chart, set the EA parameter. In the "Common" option, select "Multi-empty position" and check the box in front of "Allow real-time automatic trading"
6, in the "input parameters", set the relevant parameters, generally modify the number of single hand, jiacang distance, loss ratio, 10,000 US dollars according to the minimum parameter settings, after setting "confirm
7. After setting the EA parameters, start the EA. In the "Tools" – "Options" – "EA" – check "Allow DLL import" to confirm