Modified assistant for selecting the manual strategy – indicator for MetaTrader 4
The indicator is designed for testing manual strategies and for practicing working according to the strategy. It provides operation reports presented as a table, chart, and additionally saves templates with and without the markup.
The tool was developed to help analyze the interesting strategies, and also to practice and gain experience in analyzing the signals on history data in the selected strategy.
The maximum approximation to the market rules gives the opportunity for the novice to understand the logic behind the order triggering and strategy signal formation, and to find the suitable strategy.
The ТРЕНЕР_ММ indicator is a modification of the TPEHEP indicator and utilizes all of its functions, with the information panel added: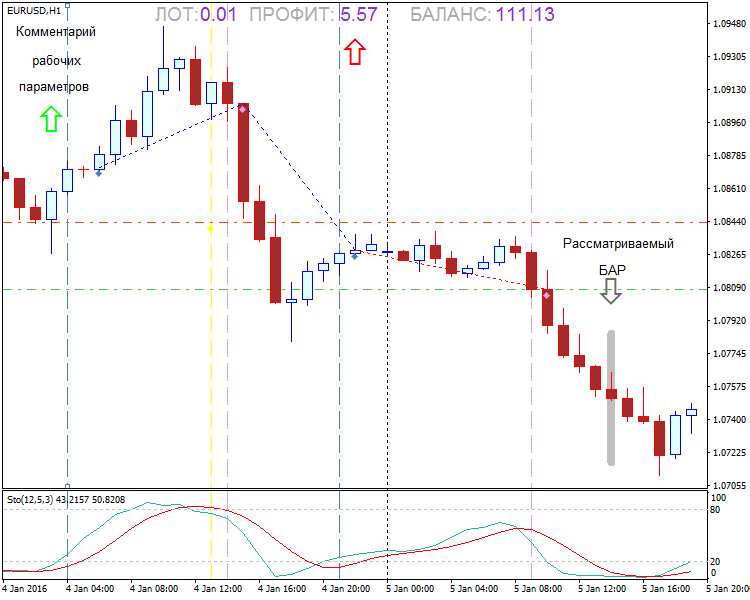 Added viewing profit of the opened order dynamically on each bar (red arrow).
Added chart comment with the main parameters (green arrow). Deleted when an order is opened.
If the balance is negative (no funds) the indicator stops its operation.
This version features money management based on the StopLoss value. At the risk value of 0% the lot size is always minimal.
Added visualization of the StopLoss and TakeProfit (=StopLoss) levels on the considered bar in the form of a gray line, which shows the market volatility and the risk for opening or closing the order. The working indicator is provided separately here: https://www.mql5.com/en/code/15246.
Added the order execution time to the report table:

Basic operation rules are the same as in the ТРЕНЕР indicator.