Modified Standard Deviation.mq5 – indicator for MetaTrader 5
Platform: Metatrader5
Currency pairs: Any pairs, indices and metals
Trading Time: Around the clock
The idea of ​​revising the standard StdDev indicator is to improve the visibility of moments when the indicator values change to growing or falling.
The values can be interpreted as follows.
The moment when the line color changes from red to green indicates the beginning of the trend movement.
When the line color changes from green to red, the trend movement is weakening.
The indicator is traditionally used along with Bollinger Bands. If the price touches the upper Bollinger Band or is close to it, and the color of Modified Standard Deviation changes from red to green, it can be interpreted as the beginning of the uptrend movement. If the price is near the bottom Bollinger Band and Modified Standard Deviation begins to grow, it indicates the beginning of a downward trend.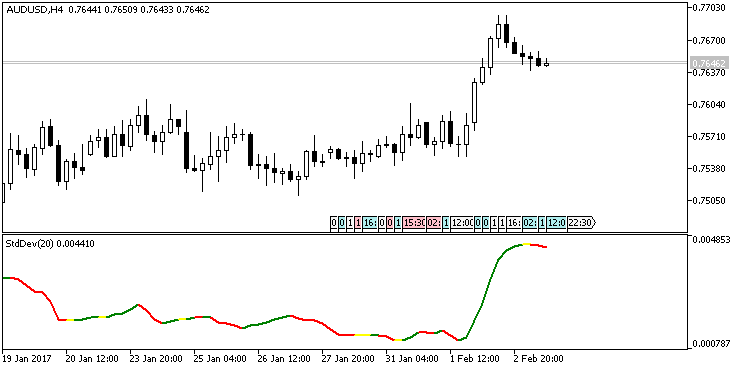 How to install MT5 indicator?
1. On the desktop, double-click to open the MT45 trading platform software you installed.
2. Click on "File" in the upper left corner – "Open Data Folder", double-click the MQL5 folder, and double-click the Indicators folder
3. Copy the metrics you need to install to the Indicators folder
4. Open MT5, find "Navigator" in the display menu, then click "Technical Indicators" of "Navigator" and right click to refresh, you will see the indicator just copied.
5. In the "Technical Indicators" of "Navigator", find the indicator file just installed, double click or click manually to the chart window