Nema MACD – indicator for MetaTrader 5
Platform: Metatrader5
Currency pairs: Any pairs, indices and metals
Trading Time: Around the clock
Nema MACD indicator — that calculates MACD using the NEMA.
Nema
can calculate all the known variations (offspring) of EMA : EMA, DEMA,TEMA , … DecEMA, … and so on, up to "levels" or "depth" 50 (whatever
name it would be).
Some known depths :
1 -> EMA
2 -> DEMA
3 -> TEMA
….
10 -> DecEMA
….
50 -> the maximal depth calculated by this indicator
If
the depth is set to 1, NEMA is equal to EMA , for depth 2 it is equal to DEMA , for depth 3 it is equal to TEMA and so on …, up to depth 50. For depth 1 the calculated MACD is equal to the original Gerald Appel MACD, for any other depth(s) it becomes different. The same depth of NEMA calculation is applied to fast, slow and signal calculation.
Indicator is already coming with alerts and is multi time frame version.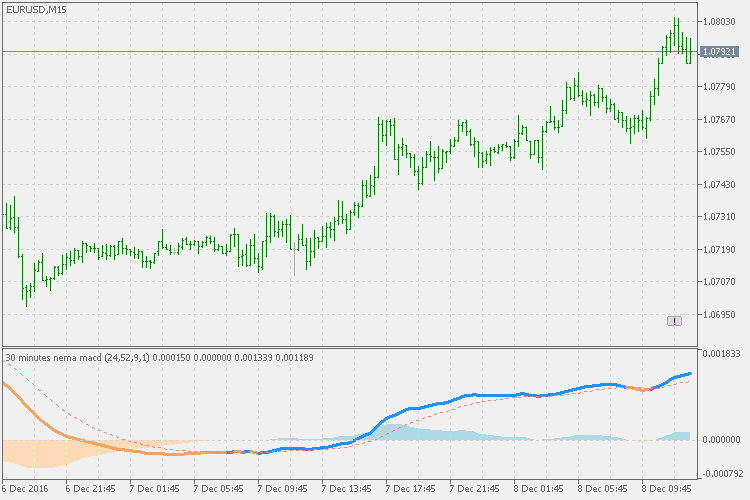 How to install MT5 indicator?
1. On the desktop, double-click to open the MT45 trading platform software you installed.
2. Click on "File" in the upper left corner – "Open Data Folder", double-click the MQL5 folder, and double-click the Indicators folder
3. Copy the metrics you need to install to the Indicators folder
4. Open MT5, find "Navigator" in the display menu, then click "Technical Indicators" of "Navigator" and right click to refresh, you will see the indicator just copied.
5. In the "Technical Indicators" of "Navigator", find the indicator file just installed, double click or click manually to the chart window