Normalized MACD – indicator for MetaTrader 5
Platform: Metatrader5
Currency pairs: Any pairs, indices and metals
Trading Time: Around the clock
This indicator is almost same as the
"normal" MACD, except that its values are normalized and are roughly
falling into a predictable range of values (unlike the regular nacd,
that does not have that predictability of expected ranges). That makes
it usable for direct value-to -value comparison over different
instruments and / or timeframes (since the values are comparable now).
Even
though the values are "very similar" to the original MACD, the values
can differ significantly — see the example: lower is the "regular"MACD , and, as it is obvious, it is quite different in some periods of
elevated volatility from the normalized version (not just regarding
values, but the slope as well as the signal values).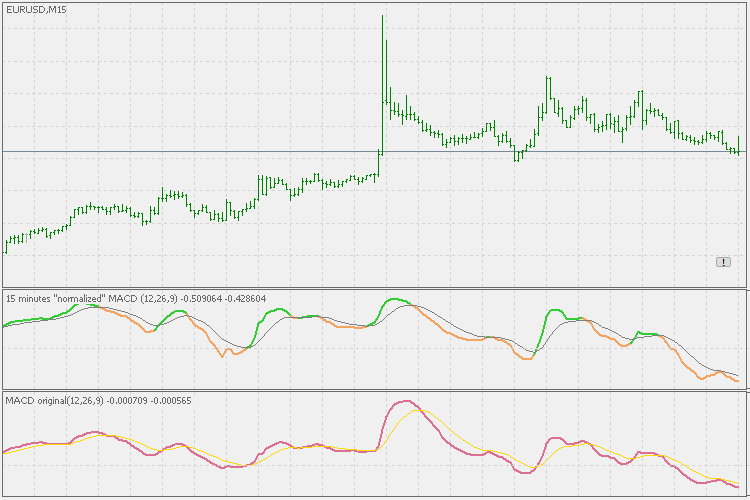 It should be used using the same rules as regular MACD, but some experimenting is advised.
How to install MT5 indicator?
1. On the desktop, double-click to open the MT45 trading platform software you installed.
2. Click on "File" in the upper left corner – "Open Data Folder", double-click the MQL5 folder, and double-click the Indicators folder
3. Copy the metrics you need to install to the Indicators folder
4. Open MT5, find "Navigator" in the display menu, then click "Technical Indicators" of "Navigator" and right click to refresh, you will see the indicator just copied.
5. In the "Technical Indicators" of "Navigator", find the indicator file just installed, double click or click manually to the chart window