Parabolic SAR Expert – expert for MetaTrader 5
Platform: Metatrader5
Currency pairs: Any pairs, indices and metals
Trading Time: Around the clock
This is a classic trading strategy based on Parabolic SAR indicator. It has AutoLot options and built-in Trailing Stop.
This code can be used in both MetaTrader5 and MetaTrader4. Just change the file extension from .mq5 to .mq4 and
compile the file in MetaEditor.
This expert advisor is designed with visual strategy builder – Mission Automate. Code is generated
automatically. More info: https://www.mql5.com/en/articles/4951
This EA is available as a template in a free demo version, so you can easily modify / customise it without programming.
Parameters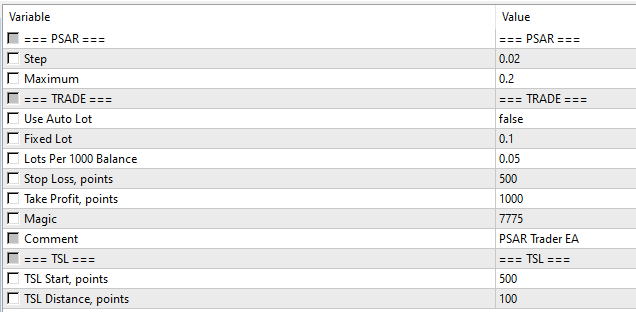 Trades Examples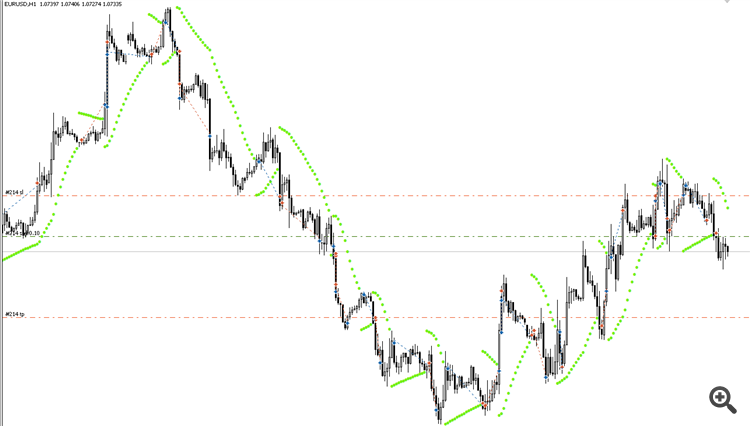 1. Open MT5 trading software – "File" – "Open Data Folder" in the upper right corner
2, find the "MQL5" folder – "Experts", put the EA in this folder
3, need to refresh or restart the trading software to display EA, find "EA" in "Navigation" – "EA Trading"
4, find the EA you need to use, right click the mouse, select "attach to the chart" (additional chart: EA uses the currency to be linked, if you need to hang Europe and America, please attach to the AUDUSD chart)
5. After adding the chart, set the EA parameter. In the "Common" option, select "Multi-empty position" and check the box in front of "Allow real-time automatic trading"
6, in the "input parameters", set the relevant parameters, generally modify the number of single hand, jiacang distance, loss ratio, 10,000 US dollars according to the minimum parameter settings, after setting "confirm
7. After setting the EA parameters, start the EA. In the "Tools" – "Options" – "EA" – check "Allow DLL import" to confirm