Price Action Indicator – indicator for MetaTrader 4
Platform: Metatrader4
Currency pairs: Any pairs, indices and metals
Trading Time: Around the clock
Author:
Chayutra Sriboonruang.
This indicator plots in the chart base on the tick price, ie. when the price moves down 10 pips it plots the down candle and wait till the next 10 pips if move up 10 pips it plots the up candle with the other color candle to indicate the up down price . It only plots when the price range has reached a specific amount of pips that you can specify.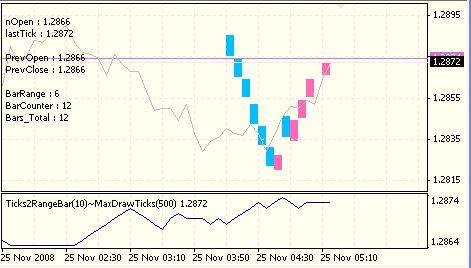 Recommendations:
Attach the indicator on the line chart to see the price up and down candle
How to install MT4 indicator?
1. On the desktop, double-click to open the MT4 trading platform software you installed.
2. Click on "File" – "Open Data Folder" in the upper left corner, double-click the MQL4 folder, and double-click the Indicators folder
3. Copy the metrics you need to install to the Indicators folder
4. Open MT4, find "Navigator" in the display menu, then click "Technical Indicators" of "Navigator" and right click to refresh, you will see the indicator just copied.
5. In the "Technical Indicators" of "Navigator", find the indicator file just installed, double click or click manually to the chart window