Price Time Correlation Trading Model – expert for MetaTrader 4
Platform: Metatrader4
Currency pairs: Any pairs, indices and metals
Trading Time: Around the clock
The
price-time correlation EA uses the value and direction of the price-time correlation as a basis for trade signals.
Two trade strategies, Trend and Reversal, are available.
In addition, four methods of computing the correlation value are provided: Pearson,
Spearman, Kendall and Fechner methods.
These methods are provided in the accompanying include file and are based on the MQL5
correlation indicators developed by A. Fedsov and provided with his article "Practical Application of Correlations in Trading".

The
ADX and Bollinger Bands indicator values are used as additional trade entry filters along with time of day. An open trade can be closed based
on a trade signal reversal.

This
EA uses the H1 EURUSD chart and is tested from Jan 2010 thru July 2019.

This
correlation based trading strategy is robust and works well across several currency pairs and over large time periods, as far back as 2004.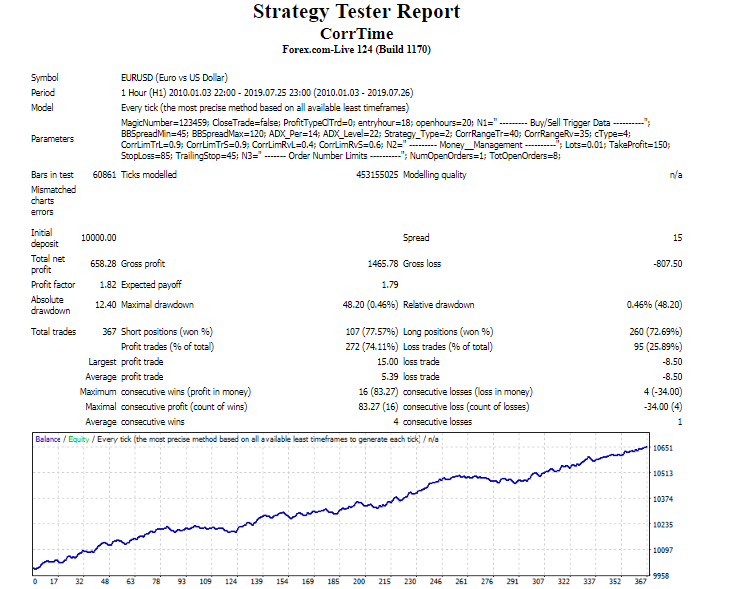 1. Open the MT4 trading software – "File" – "Open Data Folder" in the upper right corner
2, find the "MQL4" folder – "Experts", put the EA in this folder
3, need to refresh or restart the trading software to display EA, find "EA" in "Navigation" – "EA Trading"
4, find the EA you need to use, right click the mouse, select "attach to the chart" (additional chart: EA uses the currency to be linked, if you need to hang Europe and America, please attach to the AUDUSD chart)
5. After adding the chart, set the EA parameter. In the "Common" option, select "Multi-empty position" and check the box in front of "Allow real-time automatic trading"
6, in the "input parameters", set the relevant parameters, generally modify the number of single hand, jiacang distance, loss ratio, 10,000 US dollars according to the minimum parameter settings, after setting "confirm
7. After setting the EA parameters, start the EA. In the "Tools" – "Options" – "EA" – check "Allow DLL import" to confirm