Description
The ATS VX9 Trading System – High Performance Fully Automated Night and Day Trading NQ and MNQ
This software runs on NinjaTrader platform.
The VX9 wakes up before sunrise and finds the best trading opportunities in the morning twilight. Built from scratch to be a true day trading system, the VX9 offers simplicity and performance.
Unique characteristics of the VX9 Trading System
Specializes in night and day trading the NQ and MNQ stock index futures contracts
Gets positioned early, well before the cash market
Utilizes price action trend multiple ways depending on market conditions
Executes small and medium sized trades as well as capturing the big move of the day
Avoids trading during dangerous time spans that occur daily and weekly
Features of the VX9 Trading System
Fully Automated trading using the provided NinjaTrader® VX9 NinjaScript® strategy
Easy to use: place the VX9 strategy on a one minute chart and enable on your account
VX9 indicator can be used in real time to let you know if a possible trade is coming up
Back testable in NinjaTrader® Strategy Analyzer® and Market Replay®
How it Trades
The VX9 looks for strong trend conditions to develop and will either take a position in the direction of the trend or will take a position against the trend if price has moved overly sharply in the trend direction.
A short counter trend trade example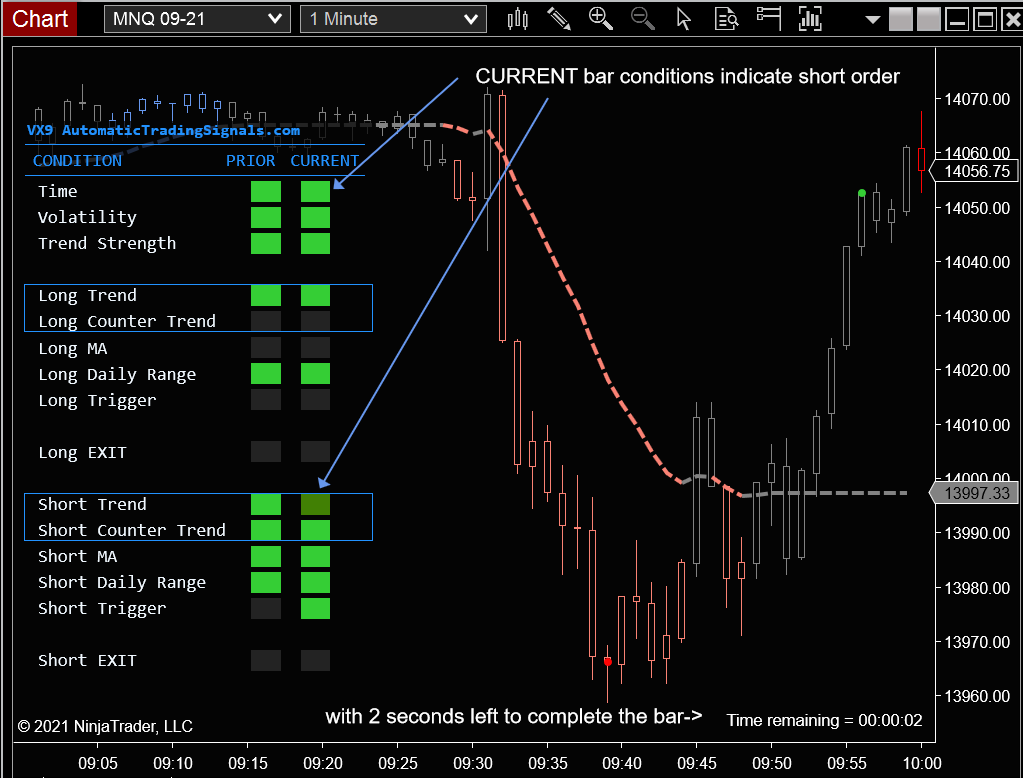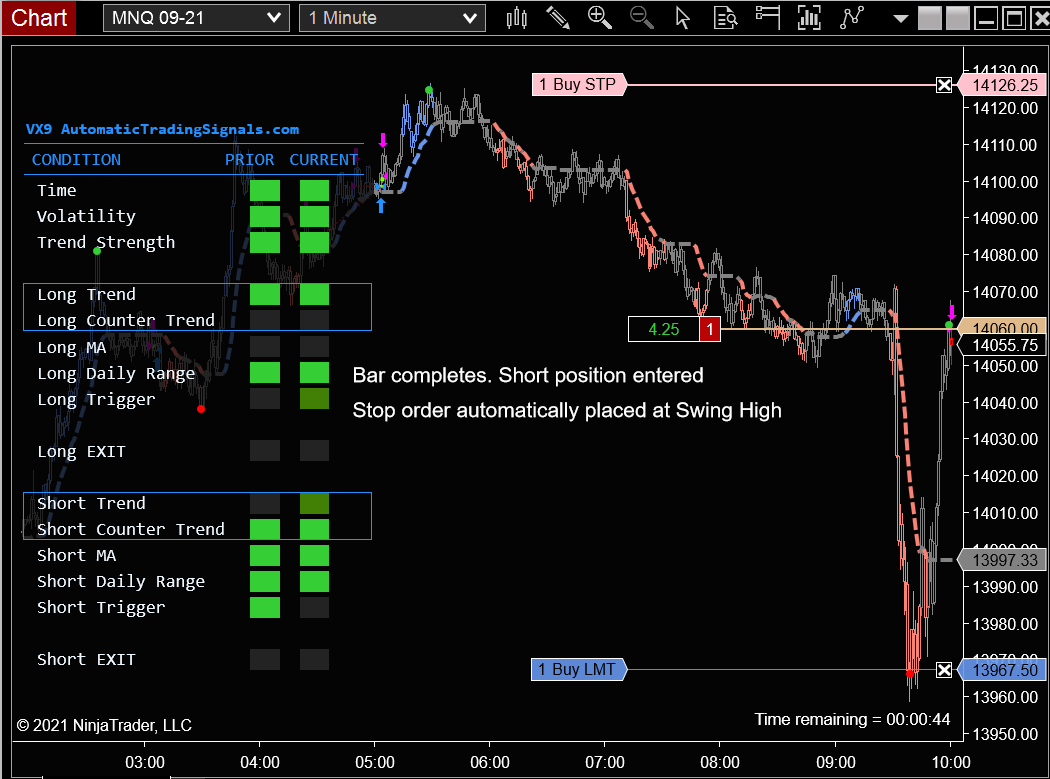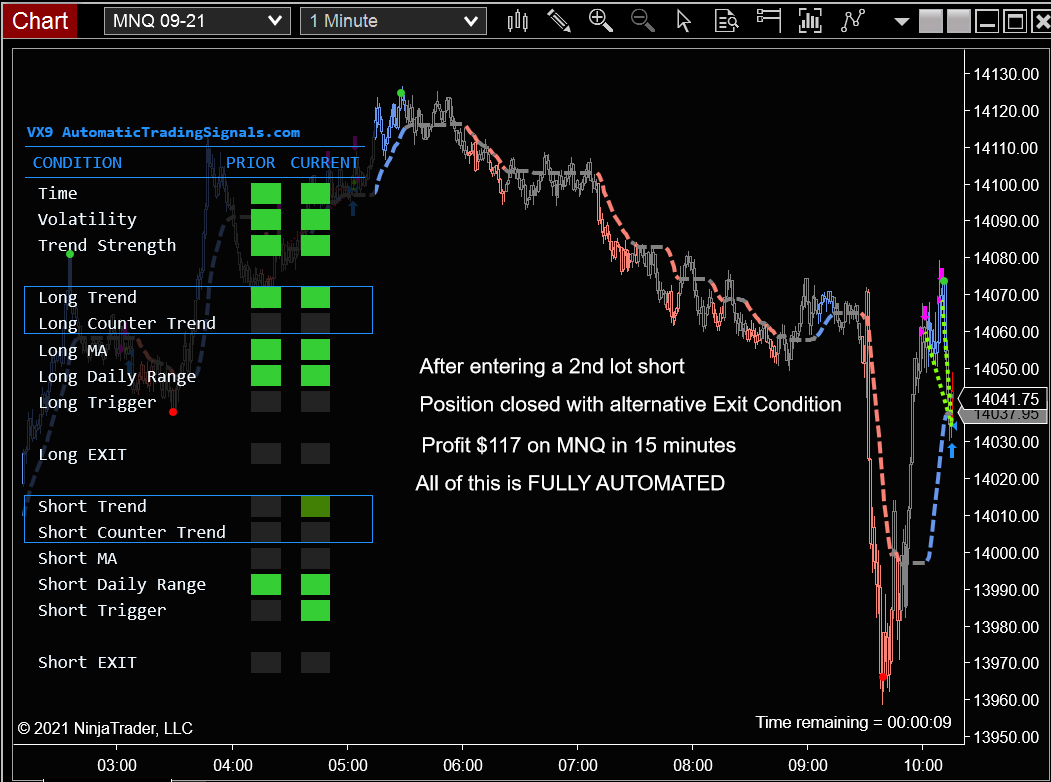 DEMONSTRATION VIDEO
A TRADING DAY EXAMPLE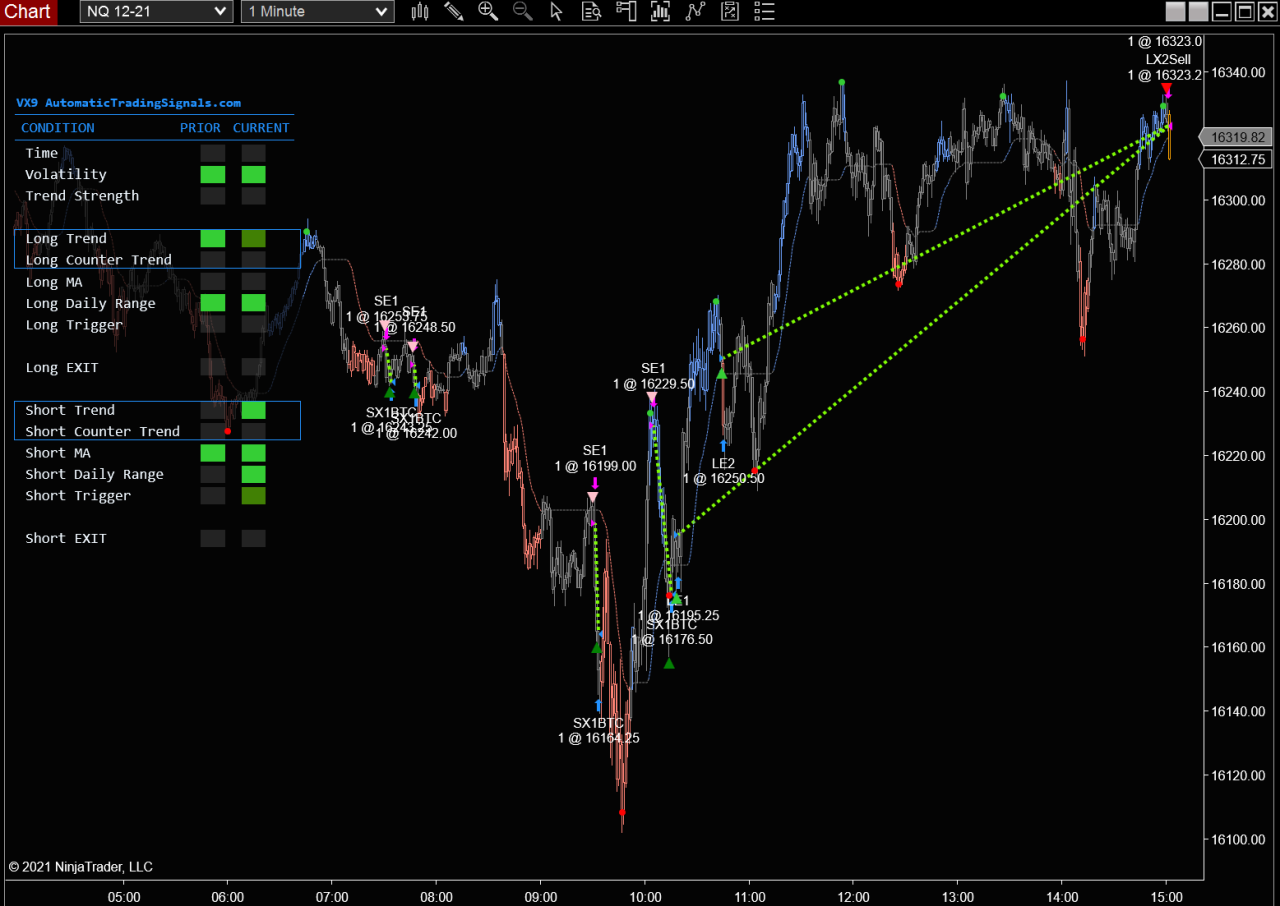 HISTORICAL PERFORMANCE
No tricks – Performance metrics include commissions and slippage. Trades frequently. In a 7 year historical analysis the system generated over 4,000 trades for an average of 3 trades per trading day.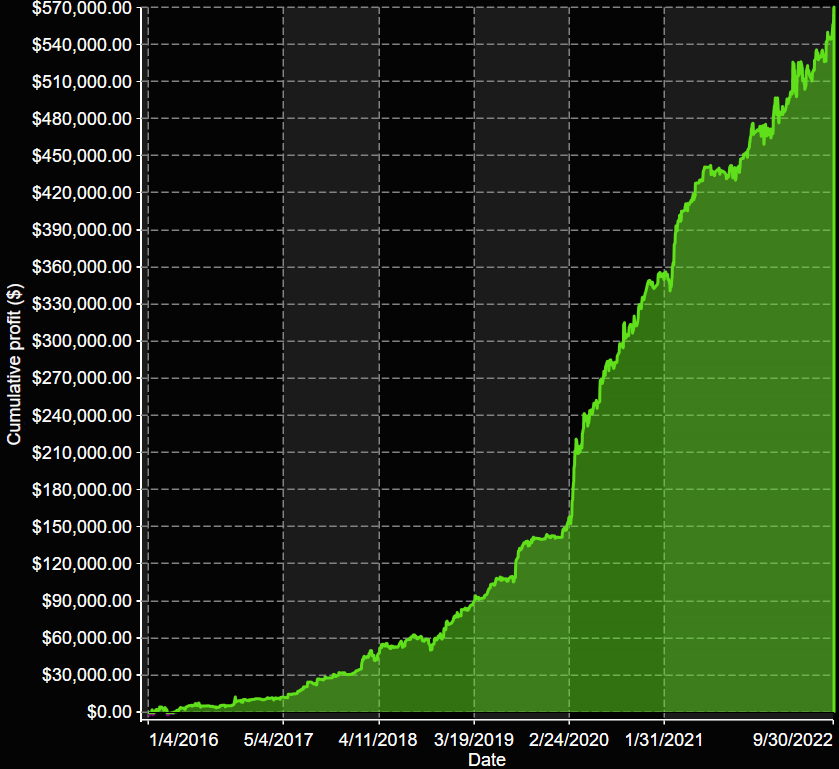 NinjaTrader® has two ways to backtest: Strategy Analyzer® and Market Replay®. Strategy Analyzer® is great for backtesting long periods of time. Market Replay® is very accurate but takes a long time to backtest and consequently is better for a close up look at shorter periods of time. Here's how the VX9 strategy performs in Market Replay® trading the E-mini Nasdaq-100 index futures contract. Results are for trading each contract for the full 3 months of their lives.
One, sometimes two contracts per trade. Commissions and slippage included.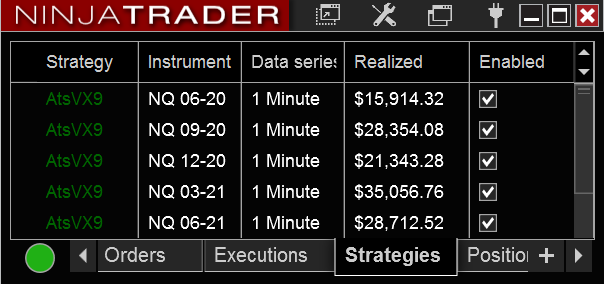 The micro e-mini Nasdaq-100:

Compounding
The performance data presented assumes that the system continues to trade one (and sometimes two) contract(s) the entire time even though there's enough equity built over time to trade more contracts. Instead of always using the same number of contracts we can take advantage of account growth by allocating more contracts to trades.
How many contracts should we add for growth?
As the index increases the risk of holding contracts increases. A 1% correction in the calendar year 2010 would be 1% of a NASDAQ index valued at 2,000, 20 points at $20 a point which translates to $400 for the NQ. But in the year 2021 a 1% move in the NASDAQ index valued at 15,000 is 150 points at $20 a point which translates to $3,000 for the NQ. Because of this we would not want to add contracts for a fixed increase of equity gained. A 1% move in 2010 would have been $400 and in 2021 its $3,000.  We also want to take into consideration the value of the index when considering how many contracts to add so that we avoid over allocating the account. This formula is more conservative in adding contracts to the progression as it respects this risk.
This simulation is designed to take the price of the index into consideration when using equity build up to determine additional contracts.
VX9 compounded results include slippage and deduction for NinjaTrader Brokerage® commission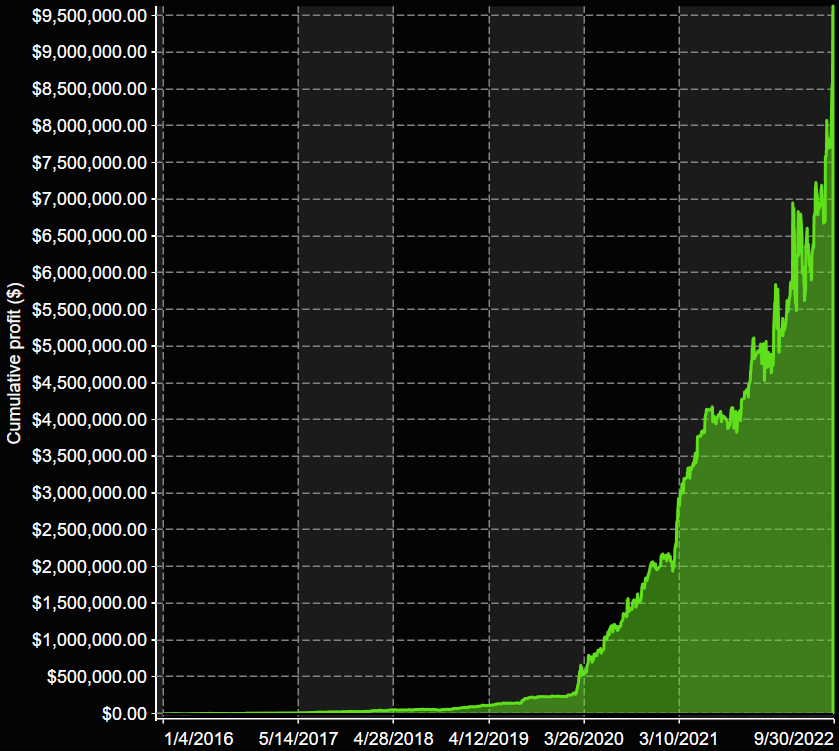 Small Accounts
Small accounts can trade the MNQ (the micro E-mini Nasdaq) using the VX9.  The best way to grow a small account is by reinvesting the gains back into the system.  In the example below the system started with a single MNQ contract per trade and added a MNQ contract for every $5,000 of equity the system returned in profits.  For the drawdown periods, the number of contracts traded is drawn down with it.  Trading beginning May 2019, when the MNQ was introduced.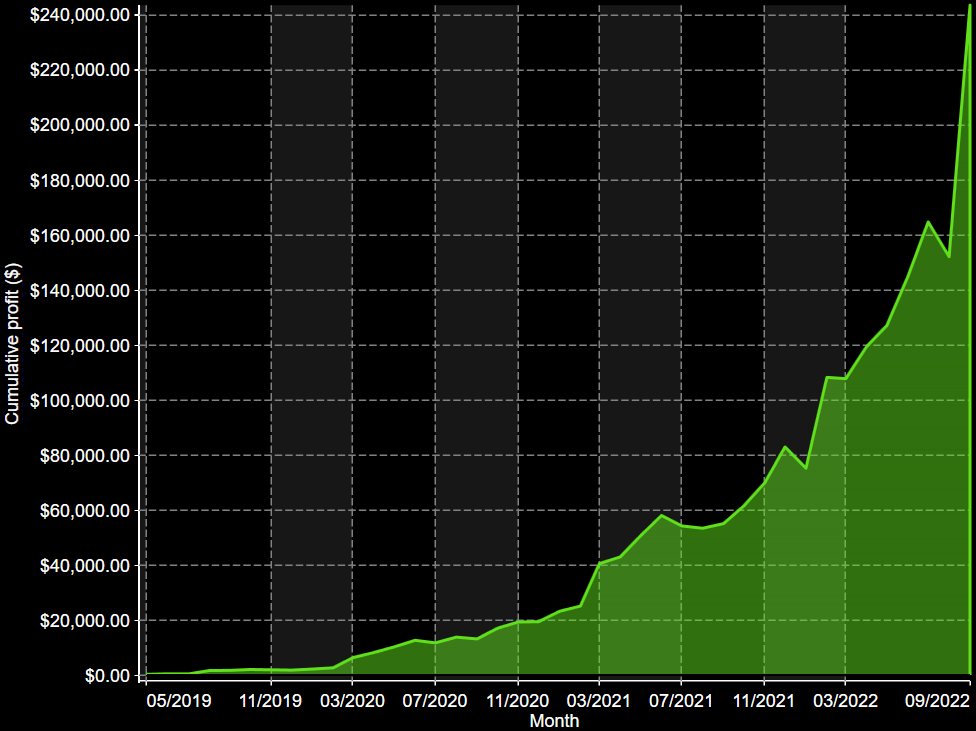 The VX9 has 2 possible entries, but in the example above we set the 2nd entry to zero contracts and never take the 2nd, even better, trade entry.
VX9 Runtime Settings
The VX9 indicators and strategies offer customizations that affect visualization as well as actual trading.
The trading customization let you decide:
The days of the week to trade
Time of day to start and stop trading
Number of contracts to trade long or short
NinjaTrader Stop Loss or Trailing Stop Loss
Daily and Weekly Profit Target – stops trading when reached
Daily and Weekly Loss Limit – stops trading when reached
VX9 Swing Analysis
Price action swing analysis enables the VX9 to find optimal stop loss and price targets. Stop and target features:
Price Action Swing analysis or price move percentage
Stop Loss based on swings or price move percentage
Target based on swings or price move percentage
Trailing Target
Trailing Stop loss
Settings in the VX9 allow you to customize how it's features work. Many combinations are possible.