Relative ATR – indicator for MetaTrader 4
Platform: Metatrader4
Currency pairs: Any pairs, indices and metals
Trading Time: Around the clock
The ATR is a great tool. However, it cannot be used as a volatility indicator. I've bound it within 0 – 100% and compared it to the previous X days
so a comparison can be made.
Recommendations:
For No Nonsense Forex followers, this has been created in attempt to incorporate the $EVZ chart into MT4. e.g. When the ATR(14) is at the
bottom 25% compared to the past 800 days, instead of taking half profit off at the 1xATR mark, take the full profit off, as recommended by
VP in the 'Dead Markets' episode.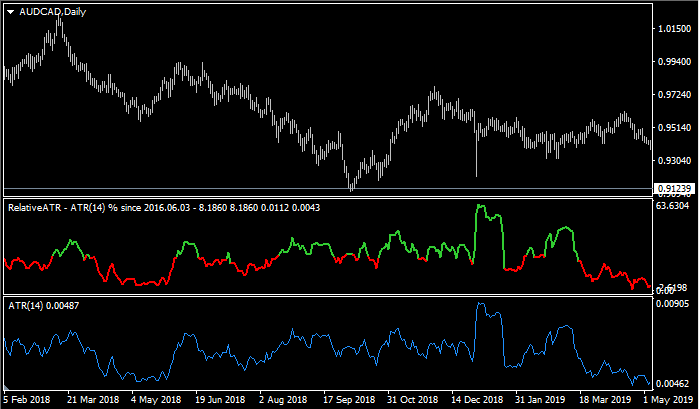 How to install MT4 indicator?
1. On the desktop, double-click to open the MT4 trading platform software you installed.
2. Click on "File" – "Open Data Folder" in the upper left corner, double-click the MQL4 folder, and double-click the Indicators folder
3. Copy the metrics you need to install to the Indicators folder
4. Open MT4, find "Navigator" in the display menu, then click "Technical Indicators" of "Navigator" and right click to refresh, you will see the indicator just copied.
5. In the "Technical Indicators" of "Navigator", find the indicator file just installed, double click or click manually to the chart window