RSI – of adaptive T3 – indicator for MetaTrader 5
Platform: Metatrader5
Currency pairs: Any pairs, indices and metals
Trading Time: Around the clock
This is RSI that can use adaptive T3 for price filtering.
---
It supports 7 types of RSI:
Cuttler's RSI
Ehlers' smoothed RSI
Harris' RSI
Rapid RSI
RSI
RSX
Slow RSI
In some way it is RSI of average — but in this case it is using adaptive T3 (it can be original Tim Tillson T3 or the modified Fulks/Matulich T3 calculation). Also, if the adapting period is set to <=1, then the regular T3 is used (no adapting will happen then). If the T3 period is set to <=1, then it is a regular RSI (regardless of the adapting period set) — any of the chosen RSI types. Levels are adjustable and the indicator is multi time frame version already. The usual set of supported prices is built in in the indicator.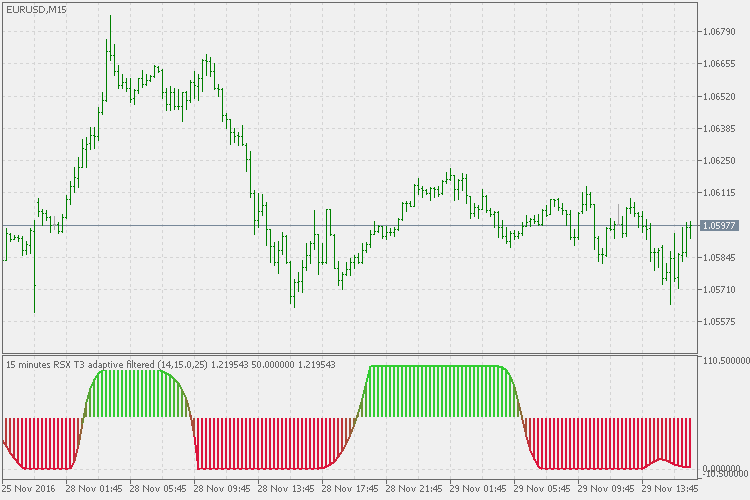 How to install MT5 indicator?
1. On the desktop, double-click to open the MT45 trading platform software you installed.
2. Click on "File" in the upper left corner – "Open Data Folder", double-click the MQL5 folder, and double-click the Indicators folder
3. Copy the metrics you need to install to the Indicators folder
4. Open MT5, find "Navigator" in the display menu, then click "Technical Indicators" of "Navigator" and right click to refresh, you will see the indicator just copied.
5. In the "Technical Indicators" of "Navigator", find the indicator file just installed, double click or click manually to the chart window