Rsi(oma) – indicator for MetaTrader 5
Platform: Metatrader5
Currency pairs: Any pairs, indices and metals
Trading Time: Around the clock
This is a version of rsi that can calculate 7 types of RSI :
"regular" RSI
Cuttler's RSI
Ehlers' smoothed RSI
Harris' RSI
Rapid RSI
RSX
"Slow" RSI
Levels for this indicator can be 2 type : floating (if the floating level period is set to > 1) or fixed – the classical way (if the floating levels period is set to <=1). Also, when the price smoothing is turned on (price smoothing period set to >1) it becomes what was commonly known as rsioma. It can use 4 basic types of averages for price smoothing/filtering and combined with the 7 types of rsi it supports, you can now have 7 types of rsioma too.
Indicator has the usual set of 22 types of prices, usual set of alerts (that is synchronized with the choice of color change for the rsi value, which can be based on slope change, middle level cross or outer level cross , all in accordance to level type settings as described above) and is already a multi time frame version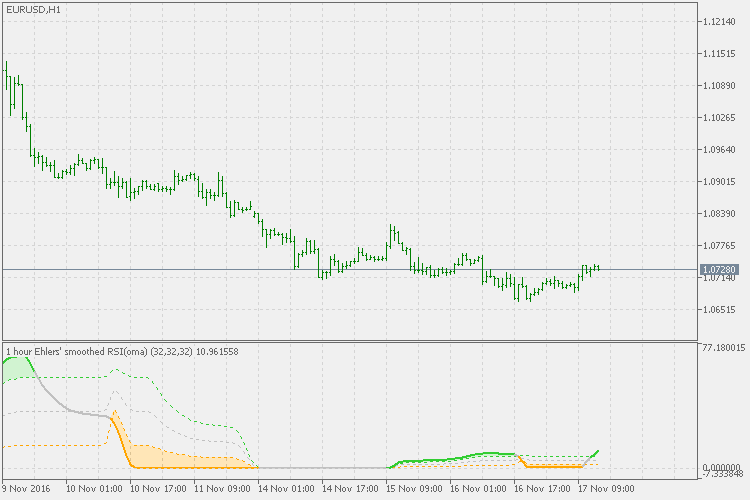 How to install MT5 indicator?
1. On the desktop, double-click to open the MT45 trading platform software you installed.
2. Click on "File" in the upper left corner – "Open Data Folder", double-click the MQL5 folder, and double-click the Indicators folder
3. Copy the metrics you need to install to the Indicators folder
4. Open MT5, find "Navigator" in the display menu, then click "Technical Indicators" of "Navigator" and right click to refresh, you will see the indicator just copied.
5. In the "Technical Indicators" of "Navigator", find the indicator file just installed, double click or click manually to the chart window