Sentiment zone oscillator – indicator for MetaTrader 5
Platform: Metatrader5
Currency pairs: Any pairs, indices and metals
Trading Time: Around the clock
Compared to the original sentiment zone oscillator, this version has several deviations.
---
The original was described in the May 2012 issue of TASC, Walid Khalil in his article
"Exploiting Extremes Sentiment Zone Oscillator" :
The sentiment zone oscillator (SZO) is a leading contrary oscillator
that measures the extreme emotions of a single market or share.
It measures and defines both extremes, bullishness (overoptimism) and
bearishness (overpessimism), that could lead to a change in sentiment,
eventually changing the trend of the time frame under study.
The SZO was devised on the belief that after several waves of rising
prices, investors begin to get bullish on the stock with increasing
confidence since the price has been rising for some time. The SZO
measures that bullishness/bearishness and marks overbought/oversold
levels.
But, since the original sentiment zone oscillator is "too nervous", this version introduces several additions :
original uses tema for calculation – this version allows 5 types of averages for that
simple moving average
exponential moving average
smoothed moving average
linear weighted moving average
triple exponential moving average (tema)
also, in this version, in order to filter the number of signals, you can use price filtering (using the same averages as for calculation). The price filtering has proved to be effective on this indicator and makes it much easier to use for any type of trading.
If price smoothing is not used (price smoothing period set to <=1), then you shall get what is the original sentiment zone oscillator, but the recommendation is to use at least a mild price filtering in order to get any kind of usable signals.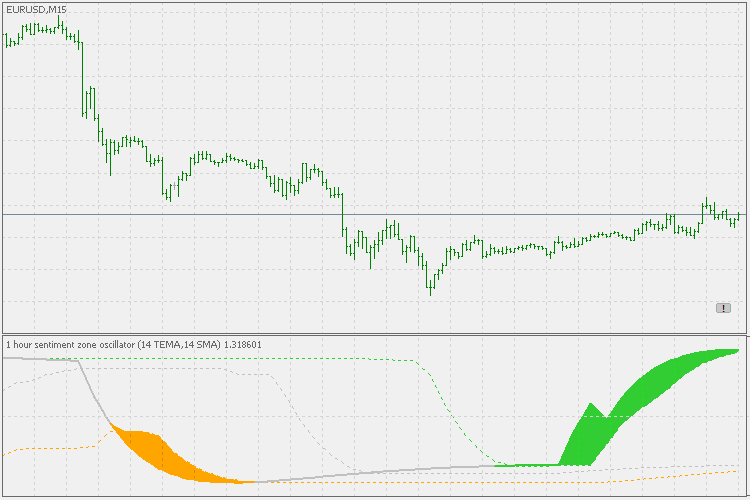 How to install MT5 indicator?
1. On the desktop, double-click to open the MT45 trading platform software you installed.
2. Click on "File" in the upper left corner – "Open Data Folder", double-click the MQL5 folder, and double-click the Indicators folder
3. Copy the metrics you need to install to the Indicators folder
4. Open MT5, find "Navigator" in the display menu, then click "Technical Indicators" of "Navigator" and right click to refresh, you will see the indicator just copied.
5. In the "Technical Indicators" of "Navigator", find the indicator file just installed, double click or click manually to the chart window