Smoothed repulse – indicator for MetaTrader 5
Platform: Metatrader5
Currency pairs: Any pairs, indices and metals
Trading Time: Around the clock
In short "repulse" would be :
The Repulse indicator measures and displays the bullish or bearish
pressure associated with each price candlestick in the form of a curve.
It is more relevant when compared to price and offers valuable
additional information on the feeling and confidence that traders have
about the markets.
This version can use one of the 4 basic averages types for smoothing.
Coloring can be chosen depending on :
slope
outer levels cross
middle ("zero") level cross
Since the "repulse" indicator is not limited to known bounds, levels are dynamic — the "zero" value too. That makes it more responsive in the times of elevated volatility. Alerts are triggered based on the color change.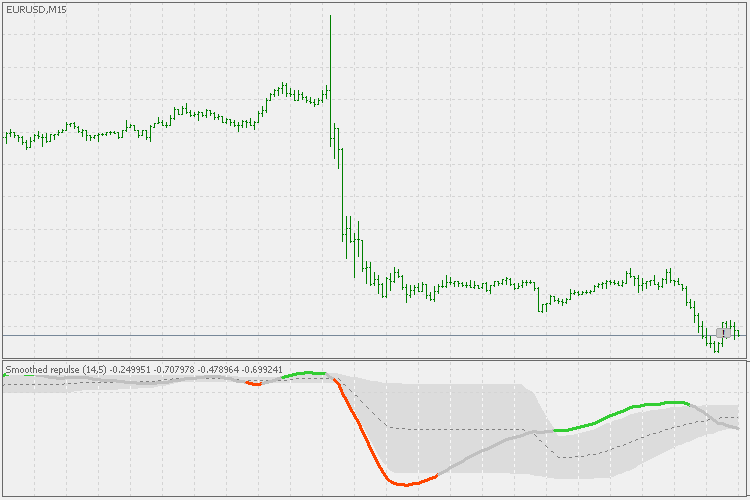 How to install MT5 indicator?
1. On the desktop, double-click to open the MT45 trading platform software you installed.
2. Click on "File" in the upper left corner – "Open Data Folder", double-click the MQL5 folder, and double-click the Indicators folder
3. Copy the metrics you need to install to the Indicators folder
4. Open MT5, find "Navigator" in the display menu, then click "Technical Indicators" of "Navigator" and right click to refresh, you will see the indicator just copied.
5. In the "Technical Indicators" of "Navigator", find the indicator file just installed, double click or click manually to the chart window