STARC bands – indicator for MetaTrader 5
Platform: Metatrader5
Currency pairs: Any pairs, indices and metals
Trading Time: Around the clock
This is a version of STARC bands with some deviations compared to the original bands .
---
By definition STARC bands are :
STARC (Stoller Average Range Channels) show three lines which create a
channel around an ordinary moving average. These three lines are:
An n–period Simple Moving Average (SMA).
An upper band, which is the n-period SMA plus an m-period Average True Range (ATR) multiplied by a constant K.
A lower band, which is the n-period SMA minus an m-period ATR multiplied by a constant K.
STARC bands were developed by Manning Stoller.
Usage :the STARC Bands tend to define upper and lower limits for normal price action. Therefore, some traders use STARC bands to determine the level of risk prior to entry.
This version :
has two bands (not just one) which are drawn as a filled channel
it allows usage of any of the basic 4 type of averages for calculating the basic value of STARC and for ATR calculation – that way we can have variations that were not part of the original bands
it has a set of 22 types of prices
It is a multi time frame version already
---
Important update : version 1.2 is now compatible with back-testing in multi time frame mode too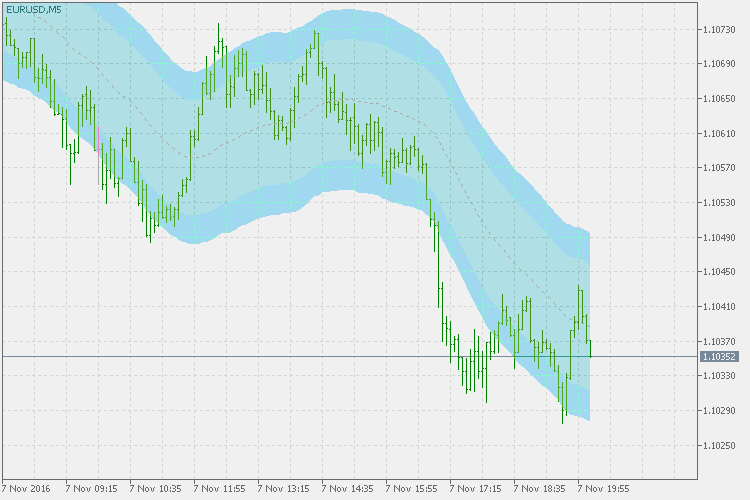 How to install MT5 indicator?
1. On the desktop, double-click to open the MT45 trading platform software you installed.
2. Click on "File" in the upper left corner – "Open Data Folder", double-click the MQL5 folder, and double-click the Indicators folder
3. Copy the metrics you need to install to the Indicators folder
4. Open MT5, find "Navigator" in the display menu, then click "Technical Indicators" of "Navigator" and right click to refresh, you will see the indicator just copied.
5. In the "Technical Indicators" of "Navigator", find the indicator file just installed, double click or click manually to the chart window