StreamСCandles – indicator for MetaTrader 5
Platform: Metatrader5
Currency pairs: Any pairs, indices and metals
Trading Time: Around the clock
Real author: Yuriy Tokman (YTG)
The indicator colors candlesticks whose size multiplied by volume exceeds a preset value. Depending on settings, the indicator can take into accounts the candlestick body or the entire candlestick size.
Indicator input parameters:
//| Indicator input parameters                   |
//+----------------------------------------------+
input ENUM_MODE Candles_Mode=OPENCLOSE;              //size option
input uint Candles_Size=1000;                        //minimum candlestick size for triggering
input ENUM_APPLIED_VOLUME_ VolumeType=VOLUME_TICK_;  //Volume
input uint NumberofBar=1;                            //Bar number to generate a signal
input bool SoundON=true;                             //Enable alerts
input uint NumberofAlerts=2;                         //The number of alerts
input bool EMailON=false;                            //Enable email notifications
input bool PushON=false;                             //Enable push-notifications

Originally this indicator was written in MQL4 and was published in the Code Base on 22.01.2016.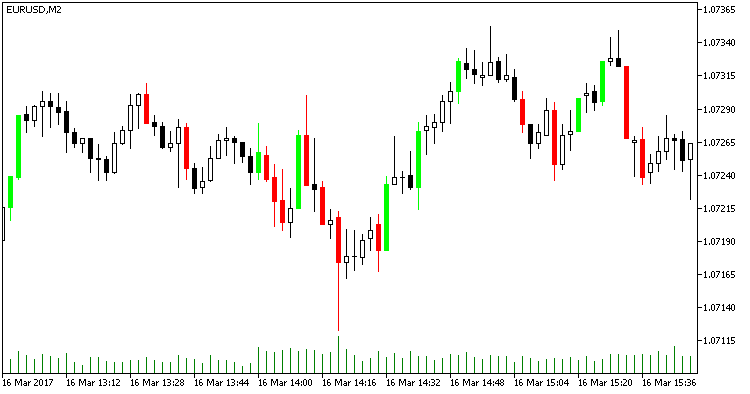 Fig1. The Stream indicator
How to install MT5 indicator?
1. On the desktop, double-click to open the MT45 trading platform software you installed.
2. Click on "File" in the upper left corner – "Open Data Folder", double-click the MQL5 folder, and double-click the Indicators folder
3. Copy the metrics you need to install to the Indicators folder
4. Open MT5, find "Navigator" in the display menu, then click "Technical Indicators" of "Navigator" and right click to refresh, you will see the indicator just copied.
5. In the "Technical Indicators" of "Navigator", find the indicator file just installed, double click or click manually to the chart window