TicksVolume – indicator for MetaTrader 5
Platform: Metatrader5
Currency pairs: Any pairs, indices and metals
Trading Time: Around the clock
This is my translation of the code by Alexey Viktorov from MQL4 to MQL5. For those who work mainly on MQL5 it can be useful.
The indicator shows the price change in points and how many times there was a change for a selected period, unfortunately only from launch to stop.
No input parameters.
It can be used to determine the speed and/or acceleration of price changes. In the screenshot it can be seen that the Volume equals 44, the TickVolume indicator shows that the price increased in 27 ticks ("Tick up") and decreased in 17 ticks ("Tick down"). During this time, the price has increased by 53 points ("Pips up") and decreased by 9 points ("Pips down", in the fifth digit).
Very important, all mathematical operations with the values of the indicator must be carried out in absolute values.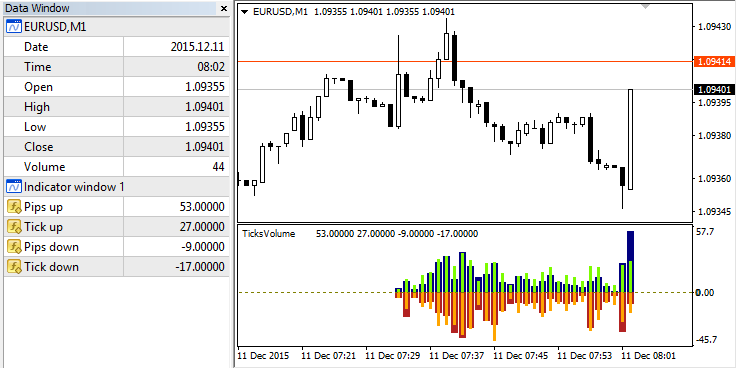 How to install MT5 indicator?
1. On the desktop, double-click to open the MT45 trading platform software you installed.
2. Click on "File" in the upper left corner – "Open Data Folder", double-click the MQL5 folder, and double-click the Indicators folder
3. Copy the metrics you need to install to the Indicators folder
4. Open MT5, find "Navigator" in the display menu, then click "Technical Indicators" of "Navigator" and right click to refresh, you will see the indicator just copied.
5. In the "Technical Indicators" of "Navigator", find the indicator file just installed, double click or click manually to the chart window