TradePad_Sample – expert for MetaTrader 5
Platform: Metatrader5
Currency pairs: Any pairs, indices and metals
Trading Time: Around the clock
Here are some examples of objects implementation to build a table of trade symbols. By pressing the symbol on graphic object Chart (OBJ_CHART) the price data of this symbol are loaded. Each symbol panel has color that shows the current trend of the timeframe specified. The colors are:
Red color – downtrend (value of Stohastic > 80);
Green color – uptrend (value of Stohastic < 20);
Grey color – flat (the value of Stohastic between 20 and 80);
Sand color – the price data on the symbol are absent.
The trading functions for the buttons Buy and Sell is not implemented, you can do it yourself as you need. The function for trend determination GetColorOfSymbol () also can be rewritten as you like. The code was written long ago, and quite possibly not optimized (especially for access to the indicator and price data). All the classes used are included, put them in the same folder with TradePad_Sample.mq5 expert.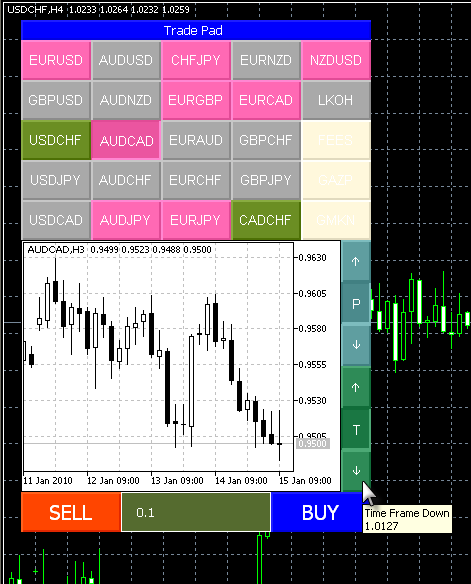 1. Open MT5 trading software – "File" – "Open Data Folder" in the upper right corner
2, find the "MQL5" folder – "Experts", put the EA in this folder
3, need to refresh or restart the trading software to display EA, find "EA" in "Navigation" – "EA Trading"
4, find the EA you need to use, right click the mouse, select "attach to the chart" (additional chart: EA uses the currency to be linked, if you need to hang Europe and America, please attach to the AUDUSD chart)
5. After adding the chart, set the EA parameter. In the "Common" option, select "Multi-empty position" and check the box in front of "Allow real-time automatic trading"
6, in the "input parameters", set the relevant parameters, generally modify the number of single hand, jiacang distance, loss ratio, 10,000 US dollars according to the minimum parameter settings, after setting "confirm
7. After setting the EA parameters, start the EA. In the "Tools" – "Options" – "EA" – check "Allow DLL import" to confirm