Velocity – normalized – indicator for MetaTrader 5
Platform: Metatrader5
Currency pairs: Any pairs, indices and metals
Trading Time: Around the clock
Velocity (which is often called a "smoother
momentum" since it is much smoother than momentum without lagging at
all) with an addition of 3 types of normalization:
ATR normalization
standard deviation without sample correction
standard deviation with sample correction
and no normalization (in order to have "clean" version too)
---
Also,
since velocity is (even when normalization is applied), not an
indicator with fixed bounds, this indicator is using floating levels for
what is usually called overbought and oversold levels (+ a floating
"zero" line is added). Something that would look like a "fixed levels"
is easily achieved if you use long floating levels period in which case
those levels are quite similar to fixed levels.
Indicator is
having the usual set of prices and alerts (depending on the 3 type of
coloring options) and is already a multi time frame version.
---
Indicator can be used like any momentum indicator (in that case recommended coloring mode is to use either slope coloring or "zero" middle level crossing coloring) or it can be used as a "trending" indicator in which case it is better to use coloring on outer level cross, and longer calculation periods are advised in that case.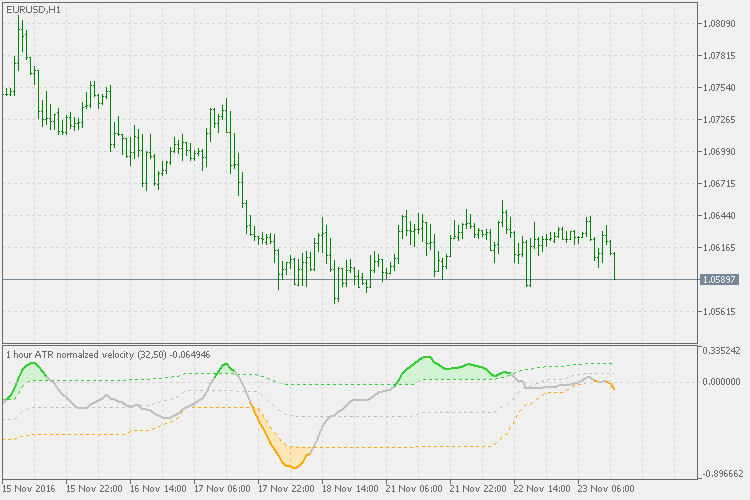 How to install MT5 indicator?
1. On the desktop, double-click to open the MT45 trading platform software you installed.
2. Click on "File" in the upper left corner – "Open Data Folder", double-click the MQL5 folder, and double-click the Indicators folder
3. Copy the metrics you need to install to the Indicators folder
4. Open MT5, find "Navigator" in the display menu, then click "Technical Indicators" of "Navigator" and right click to refresh, you will see the indicator just copied.
5. In the "Technical Indicators" of "Navigator", find the indicator file just installed, double click or click manually to the chart window