VR Calculate Martingale Lite – indicator for MetaTrader 4
Average price indicator that helps the trader to calculate the price for closing all the orders without loss and profit.
With the help of the indicator, the trader creates the virtual orders and manually sets the order volume. The indicator calculates the average
price by itself.
One can move the orders with the mouse.
The indicator will be of a great help for both green beginners and experienced traders.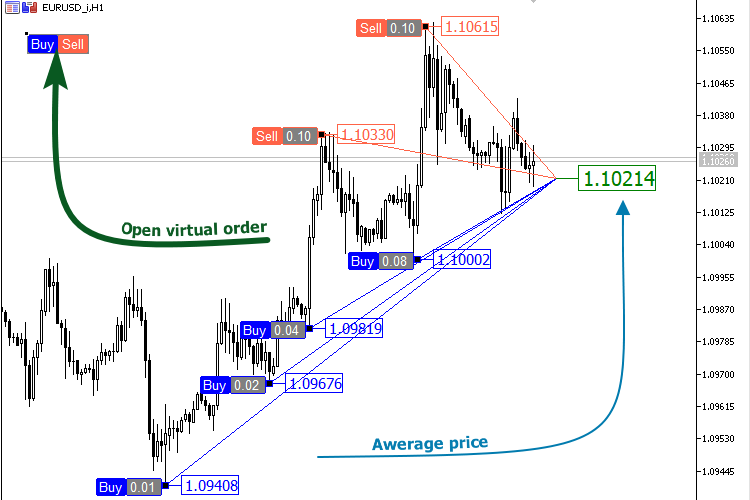 Links to additional material:
Full version MetaTrader
4
Demo version MetaTrader
4
Lite version MetaTrader
4 – (open source)
Full version MetaTrader
5
Demo version MetaTrader
5
Lite version MetaTrader
5 – (open source)
Blog
Russian – Examples of work, lessons, instructions.
Blog
English – Examples of work, lessons, instructions.
Platform: Metatrader4
Currency pairs: Any pairs, indices and metals
Trading Time: Around the clock
How to install MT4 indicator?
1. On the desktop, double-click to open the MT4 trading platform software you installed.
2. Click on "File" – "Open Data Folder" in the upper left corner, double-click the MQL4 folder, and double-click the Indicators folder
3. Copy the metrics you need to install to the Indicators folder
4. Open MT4, find "Navigator" in the display menu, then click "Technical Indicators" of "Navigator" and right click to refresh, you will see the indicator just copied.
5. In the "Technical Indicators" of "Navigator", find the indicator file just installed, double click or click manually to the chart window