XMA_BBxATR_Cloud – indicator for MetaTrader 5
Platform: Metatrader5
Currency pairs: Any pairs, indices and metals
Trading Time: Around the clock
This is a modified Bollinger Bands® displaying the upper and lower borders of the price deviation from МА calculated considering the average volatility of the symbol according to ATR indicator. The internal MintCream-colored indicator channel stands for Bollinger Bands, while the pale light green and pale pink borders are formed by ATR by deviation from the channel.

//| INDICATOR INPUTS |
//+———————————————-+
input uint ATR_Period=14; //ATR period
input double ATR_Ratio=2.0; //ATR ratio
input Smooth_Method XMA_Method=MODE_SMA_; //averaging method
input uint XLength=100; //depth of averaging
input int XPhase=15; //first averaging parameter,
//—- for JJMA within the range of -100 … +100 it influences the quality of the transition process;
//—- For VIDIA it is a CMO period, for AMA it is a slow average period
input double BandsDeviation=2.0; //deviation
input Applied_price_ IPC=PRICE_CLOSE_;//price constant
input int Shift=0; // horizontal indicator shift in bars
input int PriceShift=0; // vertical shift of the indicator in points
//—- price label colors
input color Upper_color2=clrLime;
input color Upper_color1=clrMediumSeaGreen;
input color Middle_color=clrMediumPurple;
input color Lower_color1=clrRed;
input color Lower_color2=clrMagenta;
//+———————————————-+
The indicator uses the classes of SmoothAlgorithms.mqh library (copy it to <terminal_data_folder>\MQL5\Include). The use of the classes was thoroughly described in the article "Averaging Price Series for Intermediate Calculations Without Using Additional Buffers".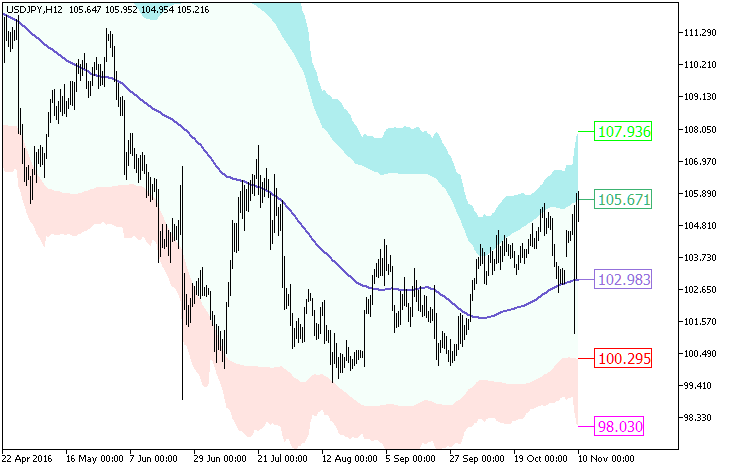 Fig.1. XMA_BBxATR_Cloud indicator
How to install MT5 indicator?
1. On the desktop, double-click to open the MT45 trading platform software you installed.
2. Click on "File" in the upper left corner – "Open Data Folder", double-click the MQL5 folder, and double-click the Indicators folder
3. Copy the metrics you need to install to the Indicators folder
4. Open MT5, find "Navigator" in the display menu, then click "Technical Indicators" of "Navigator" and right click to refresh, you will see the indicator just copied.
5. In the "Technical Indicators" of "Navigator", find the indicator file just installed, double click or click manually to the chart window