ZigZag with Its Own "Channel" – indicator for MetaTrader 4
Platform: Metatrader4
Currency pairs: Any pairs, indices and metals
Trading Time: Around the clock
The drawing of the channel's borders was added to the standard ZigZag by MetaQuotes.
I.e. all the upper and the lower peaks are joined by lines.
The parameters are the same:
(Depth is the minimum number of bars the second maximum (minimum) less (greater) than the previous by Deviation pips won't appear on, i.e. the ZigZag can always diverge but it can converge more than by Deviation (or completely converge) only after Depth of bars. Backstep is the minimum number of bars between maximums (minimums).)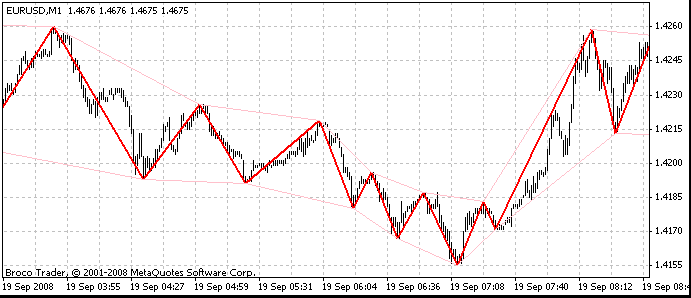 This indicator can help you to detect visually some price models.
How to install MT4 indicator?
1. On the desktop, double-click to open the MT4 trading platform software you installed.
2. Click on "File" – "Open Data Folder" in the upper left corner, double-click the MQL4 folder, and double-click the Indicators folder
3. Copy the metrics you need to install to the Indicators folder
4. Open MT4, find "Navigator" in the display menu, then click "Technical Indicators" of "Navigator" and right click to refresh, you will see the indicator just copied.
5. In the "Technical Indicators" of "Navigator", find the indicator file just installed, double click or click manually to the chart window