Description
Content: Indicator: Bank's Secret Indicator_fix.ex4, Template: template_BSI.tpl, Libraries: BSI.dll, Preset: BSI FTMO Set.set

Please note: the multi-timeframe tool (in the top left corner) is not included.
The Bank's Secret Indicator works on these assumptions… We realize that 95% of retail traders are NET-losers.
While the "Smart Money" or Bank's are almost always NET-winners…
So wouldn't it make sense to trade opposite of the "herd" or losing retail traders?
Of course! It makes total sense… However the challenge is finding the true market sentiment of the "herd" (retail traders).
The Bank's Secret Indicator pulls in data from hundreds of thousands of retail traders to show you the overall market sentiment. Basically shows you what the "herd" is doing so you can do the opposite!
Seller's website: Bank Secret Indicator
In the picture below you can see retail traders are mostly net long (87%) as the market continues to drop against them. Simply trading against the "herd" will align you with the smart money & could potentially give you a serious EDGE in the market.

Next, the Bank's Secret Indicator allows you to simply assess the overall market trend on different time frames without having to pull open a bunch of charts.
You've probably heard "the trend is your friend". And "you should only trade with the trend". We agree!
This feature shows you on each time frame whether the market is trending up or down.
In the picture below you can see the M1, M5, M15, M30, H1, H4, D1, W1 are all trending down. And the MN is trending up.

You probably notice these big red and blue "zones" on the chart… This feature of the BSI (bank's secret indicator" shows strong areas of supply & demand where price has sharply bounced off of in the past… no more drawing subjective support and resistance zones!

Arguably the coolest feature & most time saving feature of the BSI is the ability to get push notifications straight to your phone when your trading entry criteria is met.
This will save you from having to watch charts, and instead the the BSI analyze the charts and just send you an alert when your criteria is met.
Let's say for example, you only wanted to trade in the direction of the H1 & H4 trend, trade against the "herd" or "contra-crowd", and only get alerts when there is a Kangaroo tail candlestick formed… you simply set that up one time & you'll be alerted any time this criteria is met!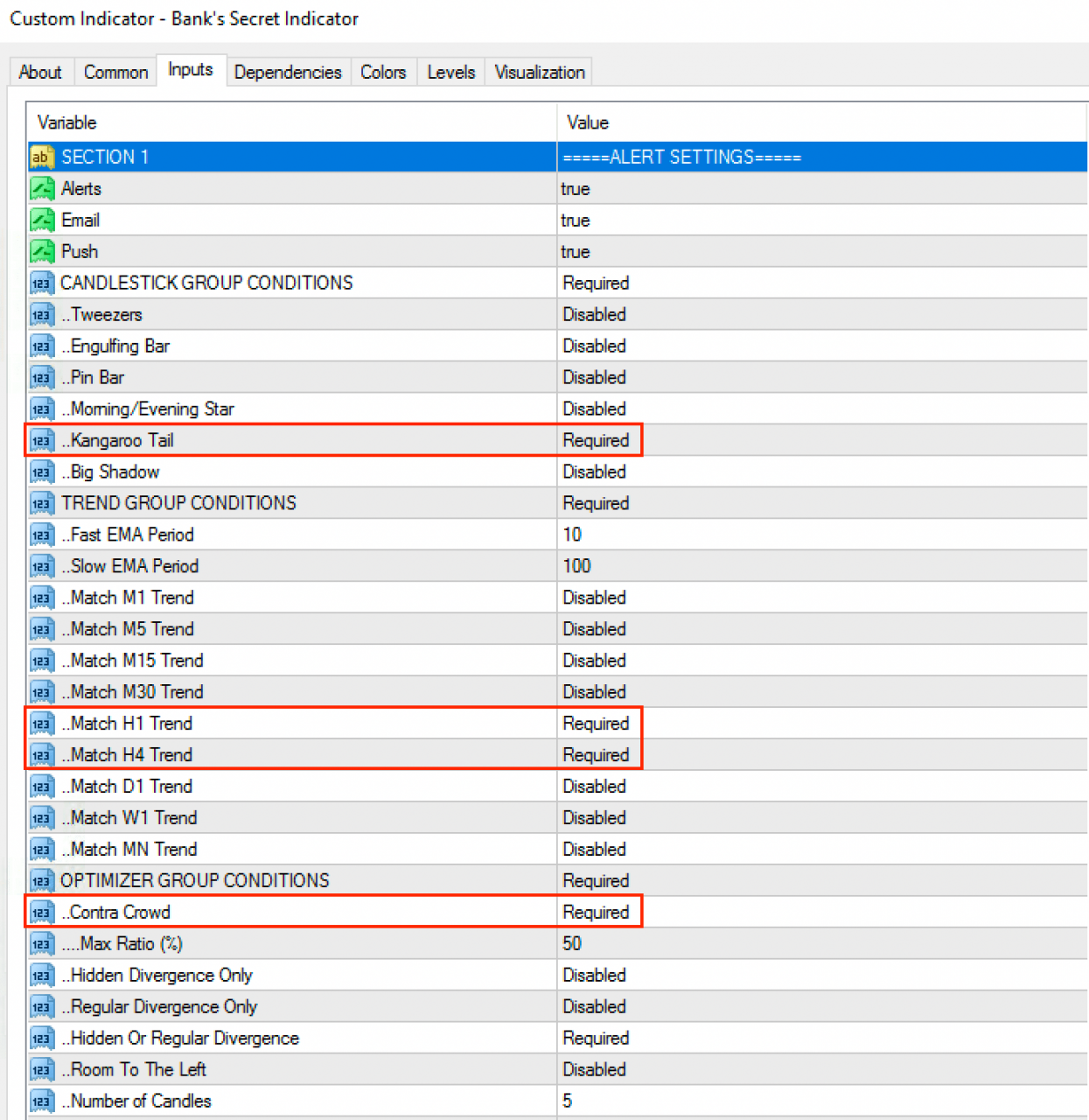 One of the last helpful features of the BSI, is the on-chart risk calculator… Just decide what percentage of your account you'd like to risk and how far away your stop loss is from your entry price and the BSI will automatically calculate your lot size!

Once you're a member you'll learn all the best practices and best strategies for getting the most out of this extremely POWERFUL tool!