Support and resistance MTF indicator (MT4) provides Forex traders with multiple time frames (mtf) of support and resistance in one price chart. Support and resistance levels are more reliable and powerful if they correspond to multiple time frames. H1 support or resistance are stronger if they appear at the same price in the H4 chart. Forex traders can use this indicator to identify multiple time frames (mtf), support and resistance on the current price chart and determine the best entry point for buying or selling.
The indicator is compatible with all intraday price charts, including daily, weekly, monthly and long-term charts. The indicator is useful for advanced and new Forex traders. It helps to identify bullish and bearish trends as well as optimal entry and exit points. The indicator can also be used by technical forex traders to create automated trading strategies.
MT4 Trading Signals for Support and Resistance MTF Indicator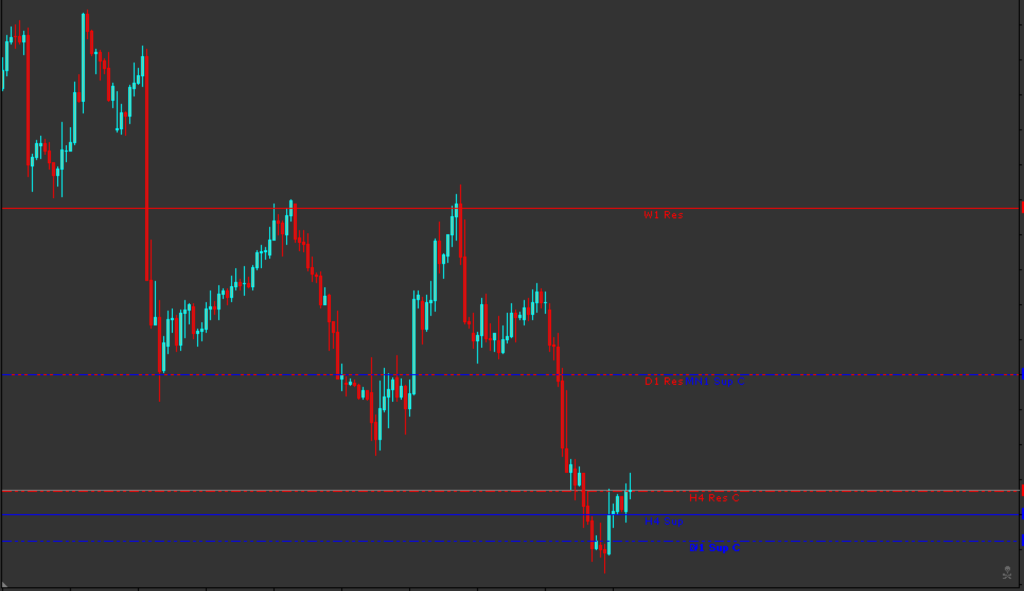 Breakouts and reversals are two of the most popular trading methods for trading support and resistance. Both of these trading methods are further confirmed by using price behavior.
If the price breaks through resistance, traders expect a bullish trend to emerge. They enter the market with a buy trade. The stop-loss point is below the support level and the take-profit point is at the next resistance level.
Forex traders can also place a sell order if the price falls below a support level, indicating a bearish trend in price. The stop loss should be placed above the resistance level and the take profit should be at the support level.
If the price does not break through the resistance level, the buyer has failed. Forex traders expect sellers to gain strength so that they can sell.
If the price fails to break through support, it indicates that the sellers are weakening and the buyers are strengthening. This is a signal that a bullish market will follow and is worth a buy trade.
Summing up
MT4's Support and Resistance MTF indicators provide the best entry points. They are crucial for determining stop-loss and take-profit levels. They also help forex traders identify bullish or bearish trends, their reversals, and the corresponding buys and sells.