Description
PROP FIRM EA We have successfully designed a forex robot with a very low drawdown of 4.20% and monthly profit range of 10% to 20%.
Expert: EA_Prop_Firm_V1.ex4 V1.11 (Unlocked)
Indicator: urdala_news_investing.com.ex4
Presets
Document: Prop Firm Ea Userguide
---
Prop Firm EA is compatible with funding firms such as FTMO, MY FOREX FUNDS, etc.
PROP FIRM EA What are Funding Firm challenges?
Funding firm challenges are targets set by companies to check your ability to keep a certain percentage of drawdown while successfully trading in a steady profit margin.
After successfully passing the challenge, you will generally be awarded with an account funded up to $200,000 and your earnings on the account will be shared with a profit split between the firm and the individual.
After testing the EA for a few months we are proud to announce that our Prop Firm EA was able to meet the requirements of the funding firms while successfully passing the challenge.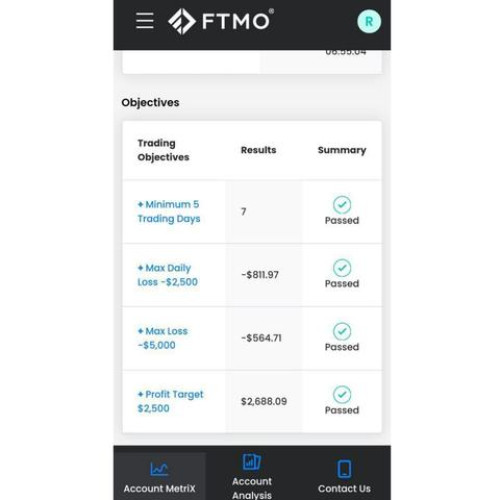 PROP FIRM EA Features :
Get a funded trading account up to $200,000
Works on both personal accounts and funding firms accounts
News Filter – To avoid trading on big market event days
Smart internal indicators to analyze the market before placing a trade
Fully Automatic – 5 min installation and the rest is fully set up
Works on 25 trading pairs
Low drawdown below 5%
100% Non Martingale Strategy
Spread control – To avoid trading in a volatile market
Full Setup guide PDF
PROP FIRM EA What is Prop Firm EA's strategy?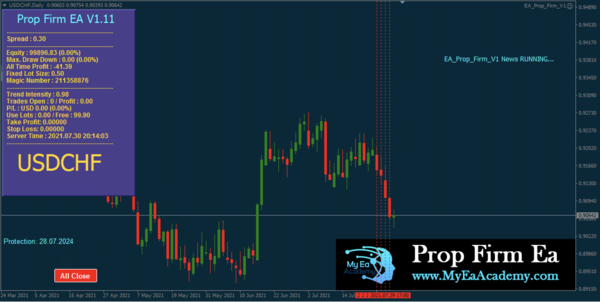 Prop firm EA uses a top bottom reverse trading strategy along with grid, internal smart indicator signals and news filter as its trading strategy.
This EA works on 25 pairs and comes with 4 preset files : 
1. Low drawdown for challenges
2. Aggressive mode for challenges
3. Low drawdown for personal accounts
4. Aggressive mode for personal accounts
Works on 2k, 5k, 10k, 50k, 100k and 200k USD accounts 
The 25 Pairs are :  
USDCHF, AUDUSD, GBPCHF, AUDCHF, CADCHF
GBUSD, EURGBP, CADJPY, AUDJPY, NZDJPY
EURUSD, EURAUD, GBPJPY, CHFJPY, NZDUSD
USDJPY, EURCHF, AUDNZD, EURNZD, GBPCAD
USDCAD, EURJPY, AUDCAD, EURCAD, XAUUSD
You need to set lot size manually according to your fund : For each 2000 usd fund lot size is 0.0110k lot size: 0.05 – 50k lot size : 0.25 – 100K lot size: 0.5 and etcEA preset for funding firm is set to close trades on Friday in order to avoid open trades over weekends.Prop Firm EA comes with a step by step user guide and video for quick installation.