ZeroLag MACD, a technical tool for trend trading on MetaTrader platforms, is available. This MACD custom indicator generates trend alerts that can be used to identify long-term and intraday trading opportunities.
This indicator is not only useful for trend-following entries but can also be used to identify swing trading setups. You can also use the MACD alert to filter candlestick patterns to identify setups with a greater chance of success.
Reading the ZeroLag MACD signals can be done by both beginners and professionals. This tool can be extremely helpful for newbie traders who are interested in following the market trend.
How to trade Forex instruments with the ZeroLag MACD Trend Alert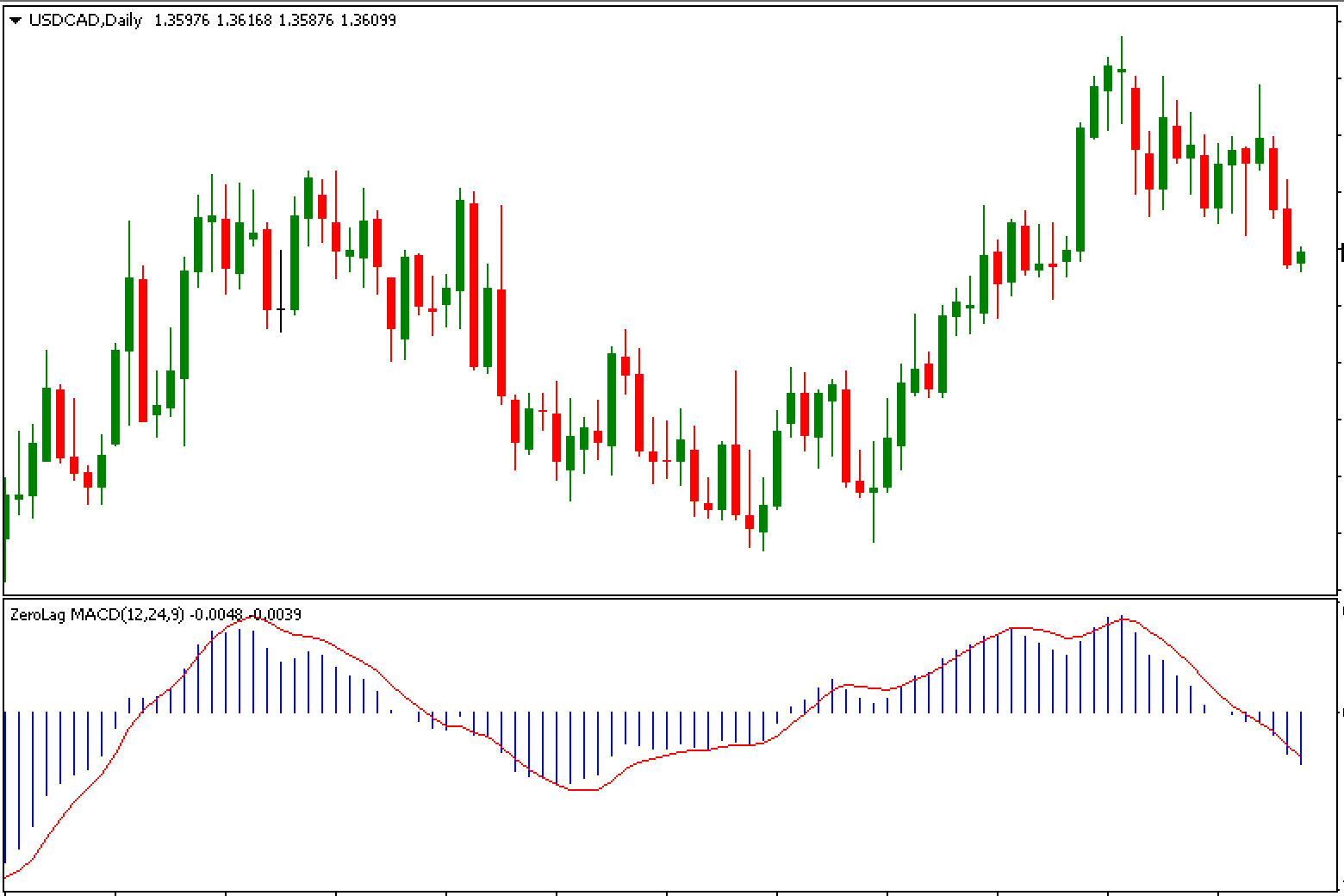 ZeroLag MACD analyzes the bearishness and bullishness market trends using three different EMAs that have different parameters. The MACD value is calculated using a 12-fast EMA and a 24-slow EMA.
The indicator uses a similar formula to calculate volume MACD. It subtracts, for example, the slow EMA (24 period) from the fast EMA (12 period) to determine the MACD value. It then engages a 9 period signal EMA to smoothen MACD trend signals.
The momentum of the market trend is determined depending on the positivity/negativity of the MACD value. MACD histogram bars that move above the zero line indicate that the market trend is bullish. If a market trend becomes bearish, histogram bars begin to fall and move below the zero-line.
Indicator window contains a red color, moving average slope and histogram bars. This indicator represents a 9-period signal EMA. This tool shows the MACD's true value. For a better trend confirmation, you should wait until both the signal EMA and histogram bars cross the zero-line. If the histogram bars turn positively, but the signal EMA has not moved above the zero-line yet, it is an indication that the trend is still in place. This indicates that the market momentum is becoming bullish, but it has not confirmed the trend. We consider the market trend bullish when both signal EMA and histogram turn positive and we look for buy-in opportunities.
The ZeroLag MACD alert's main function is to filter trade setups. You might spot a strong bearish pinbar at the top of your chart, but are unsure whether you should enter a short trade. You can avoid these confusions by simply looking at MACD momentum signals. A negative indicator means that the momentum is bearish. The bearish pin bar can be used as a sell signal.
Conclusion
The ZeroLag MACD can be used as a flexible momentum indicator. It can be used to trade all kinds of online trading instruments, including stocks, commodities, forex, and others. It not only delivers the momentum signals but also assists you in forecasting market ranges by using its histogram bars.