Description
Binary Options 2 Minute Scalpers My new 2 minute binary options scalpers are easy to trade using the custom indicators I created – it's deadly! (like win, win, win in a good way) I'm in the US so I've been looking for a good binary broker to trade with. nadex hasn't cut it for me yet. I believe I've found a better than good one, just like the great ones! More on that further. Finally, this exciting new system is not boring at all! Not as mind-numbing and potentially frustrating as the 30 or 60 second trading systems, but for the energetic guys and gals, it's also not as slow as the 5 minute trading system. The secret is to trade this 2-minute expiration software on the M2 2-minute candlestick chart. okey Dokey, it's time to see some sample pictures, here they are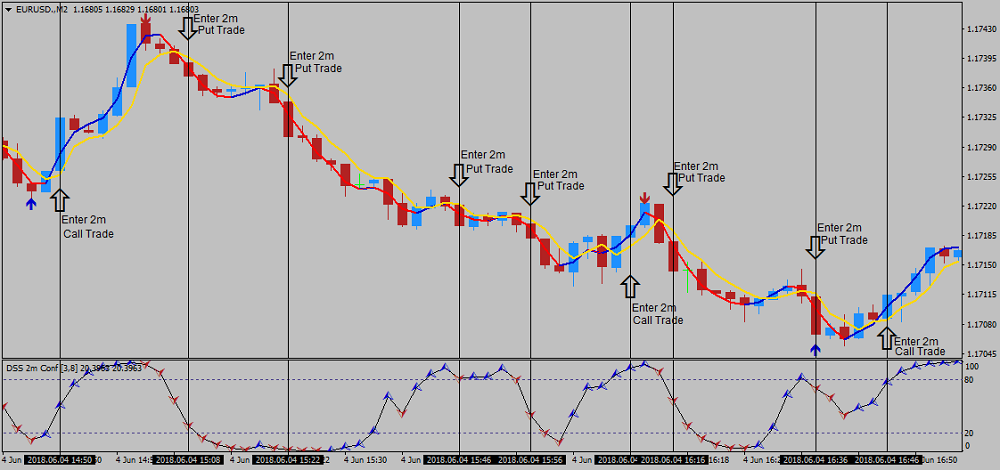 As Ricky Ricardo would say "Ed you have some "splainin" to do" well, 9 easy winners in 2 hours. I'll explain the first 2 (secure transactions) First, we do have arrows with audio/text box alerts. One reason they exist is to alert you to transactions that may be generated while you are doing other things on your computer at the time of the transaction. They do not generate trades, and we can even trade without them. I usually do this because with the 2-minute system, I am ready to sit down and trade my charts for an hour or two without any other distractions (and so should you) Why trade "safely" Ed? To put this in perspective, 10 trades on EUR/USD are priced at $100. 80% win rate for each trade looks like this. 8 trades win at almost $700. – 2 trades lost $200. That's $500. 2 hours or less of trading time to make a profit. That's about $2,500. That's about $2,500 per week or $10,000 per month. Not too shabby, right?
That said, in the first trade on the left, we do get an alert on the red candle that actually generates the bullish trade 4 minutes later. The next candle is blue and the scalper trend line turns blue and crosses the yellow COMA line. The next candle opens in blue and there is about 1/2 inch between the yellow and blue lines, so we jump in and win.
Now the second trade on the left is the opposite, a bearish trade. Again, we did get an alert about the blue candle 6 minutes before the trade was generated. The scalper trend turns red on the next candle and then crosses over to yellow on the next candle. Then we jumped to the next red candle and the distance between the two lines was close to 1/2 inch. At that point I would jump in, but if you want to be super safe, you can wait for the next candle that has 1/2 inch spacing and still win your trade.
We differ slightly in the amount of money we have available to trade with our own personal risk tolerance, etc., but one of the things I want to emphasize is that we are not trading alert arrows. The reason I usually trade without them is that some good trades will be generated without the current alert arrows and the last one may even be the opposite of the trade generated but still a good trade. Now some of you who own some of my other systems like 5 Minute Machine might say "Ed, we trade the arrows that are confirmed in that system", and you're right, but believe me, they're not the same arrows, they're a different indicator altogether. That's it, how about another different picture? Thought you'd never ask. (heh,heh)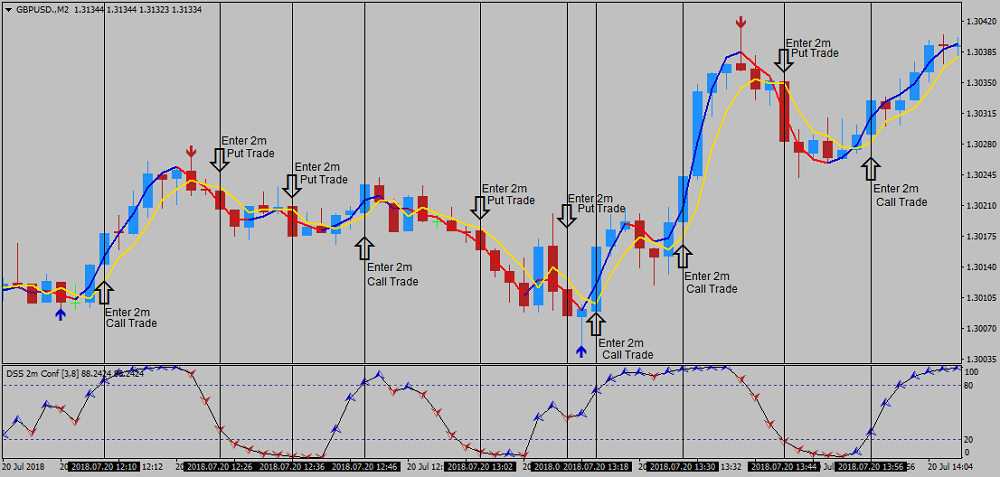 Complete binary options 2-minute system, including: 2 template files: 5 custom indicators