Scalping Forex Signal
maximize your win rate and profits. Do not enter if the
direction of the trend is opposite to the signal.
Also, DO NOT
TRADE
IN RANGING MARKETS. If you see that
the trend
is weak and does not have a strong momentum, do not enter
the trade.. wait for a stronger trend to ride.
Make sure the
trend is strong and in the signal direction before entering the
trade. If you don't follow the rule above – there is no
guarantee that you will make profit!
Where to
put Stop Loss
Stop Loss is calculated automatically using our secret
algorithms, and is displayed in the signal
alert. When a signal
is generated you will receive an alert with the direction of
the
signal and the location of the stop loss.
Where to Exit
Our exit mechanism is very simple: exit when
the indicator
issues the opposite signal. Once the
indicator generates the
opposite signals and gives you an alert, exit the trade.
This exit mechanism ensures that you exit at the optimal
point
with most profits.
What are The Best Timeframes and
Pairs
The best timeframes of the Super
indicator are:
15-minute, 30-minute, 1-hour.
The best pairs for the Super
Indicator are:
EUR\USD, GBP\JPY, EUR\JPY, AUD\USD
In the picture Scalping Forex Signal in action.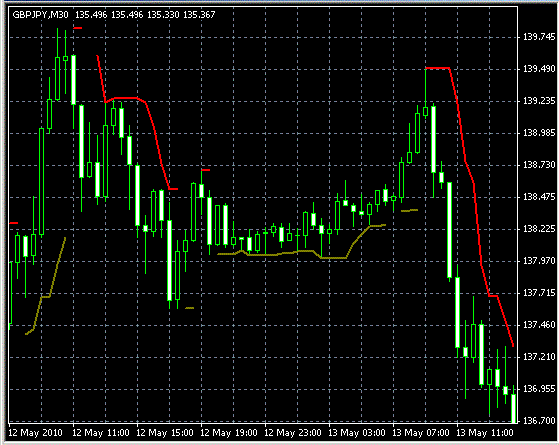 Share your opinion, can help everyone to understand the forex
strategy.

Platform: Metatrader4
Currency pairs: Any pairs, indices and metals
Trading Time: Around the clock
How to install MT4 indicator?
1. On the desktop, double-click to open the MT4 trading platform software you installed.
2. Click on "File" – "Open Data Folder" in the upper left corner, double-click the MQL4 folder, and double-click the Indicators folder
3. Copy the metrics you need to install to the Indicators folder
4. Open MT4, find "Navigator" in the display menu, then click "Technical Indicators" of "Navigator" and right click to refresh, you will see the indicator just copied.
5. In the "Technical Indicators" of "Navigator", find the indicator file just installed, double click or click manually to the chart window