Twin Blade Forex Trading System
TwinBlade Trading system
Forex Indicators:
50EMA
Smoothed;
20EMA
Smoothed;
Max
MACD in
color TF 30.
Long Entry:
20EMA>50EMA and MACD>0;
Short Entry:
20EMA<50EMA and MACD<0.
Best Entry on retracement on the 20EMA level.
Exit 2 options:
1) opposite condition (with 15 pips stop
loss) ;
2) Profit Target 25 pips, and Stop
Loss 15 pips (Ratio 1;1,5).
In the picture Twinblade scalping system in action.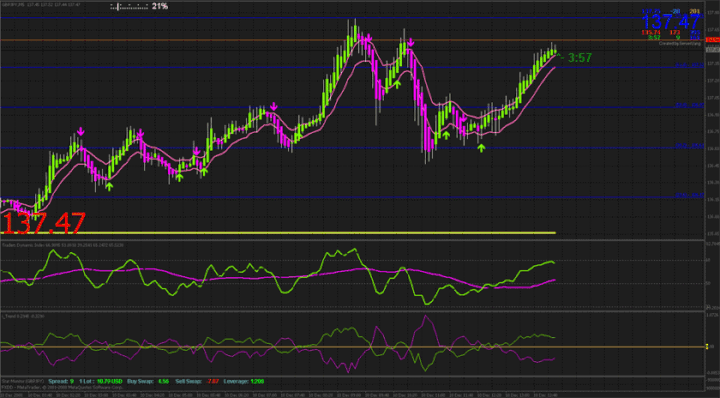 Janus Trader (Written by Funyo)
28/01/2012
Time Frame 5min
Currency pairs: Majors
Twin Blade is an variation of the Synergy
system – TDI (trader's dyn index – RSI with BB)-simplified, added altertrend(asctrend)
signals, iTrend, which works good but needs to be adjusted (tuned-up)
No Significant changes done, except some audio/visual improvements and some
visual ads.
*
Modified Heiken Ashi candles – Now you can see the white colored wicks from the green/pink bodies of the candles.
* Added Daily open line – Yellow line that will show you the distance from the daily candle open price.
* Added ASCTrend Sound Sandy – This indicator is a replacement for the dots indicator, it works somewhat the same way like the dots, except that it doesn't
repaint and also you can setup sound/message box alerts and even pop3 e-mail alerts.
* Added Daily fibo levels – You can now see the daily high/low of previous day and the retracement/extension levels. Blue is the daily fibbo, red is retracement levels
down from low, aqua is extension levels up from high.
* Added Market Price – This indicator will provide some useful information's like, High/Low, pip distance from high, pip distance from low, Pips from high to low, daily average, distance from day's open, time & spread.
* Added iTrend indicator – This is a very important trend reader, when the pink and green line crosses it will tell you which way the trend and also the distance from
the 0 level will tell you how strong that trend is moving on the 5mint
chart.
* Added Bartimer – Its just a fancy indicator to tell u how much percentage of the bar is complete.
With
Twinblade v0.1 , all you need to do is wait for the ASCtrend to alarm you with the box/sound. Then just check if the
candles are breaking out from the moving averages, check if green rsi crossed the pink line and check if Itrend crosses and are away from the 0 line and you have a potential trade there !
Share your opinion, can help everyone to understand the forex
strategy.
Platform: Metatrader4
Currency pairs: Any pairs, indices and metals
Trading Time: Around the clock
How to install MT4 indicator?
1. On the desktop, double-click to open the MT4 trading platform software you installed.
2. Click on "File" – "Open Data Folder" in the upper left corner, double-click the MQL4 folder, and double-click the Indicators folder
3. Copy the metrics you need to install to the Indicators folder
4. Open MT4, find "Navigator" in the display menu, then click "Technical Indicators" of "Navigator" and right click to refresh, you will see the indicator just copied.
5. In the "Technical Indicators" of "Navigator", find the indicator file just installed, double click or click manually to the chart window