Clear Method Filtered Forex trading system
To set up colored candle charts:
Switch to Line Chart;
in Chart Properties window, set Line Chart Color to None (the entire
price graph will disappear);
Copy the ClearMethod.mq4 file to the Indicator
directory, it will be used by iCustom();
Add Clear Method Candles1 (this must be the first), then
ClearMethodCandles2 to the chart;
If you use black backgrounded chart, set IsBlackChart parameter to true
for both indicator.
The histogram shows the distance from the actual switching
threshold.(sourcehttp://codebase.mql4.com)
The Forex Strategy Clear Method Filter
Metatrader Indicators :
Clear Method, Clear Methods Candles1, Clear Method Candles2, Clear Methods
signals, ClearMethod Histogram, C2R Wave smooth,
Time Frame 15 min
Currency pairs: any.
Long Entry
Clear Methods signals arrow green; C2R Wave smooth>0.
Short Entry
Clear Methods signals arrow red; C2R Wave smooth<0
Exit position when appears X signal or ( for 15 min TF fast profit target predetermined 8-15 pips depends by currency
pairs).
In the pictures Clear Method Filtered Forex Trading
System in action.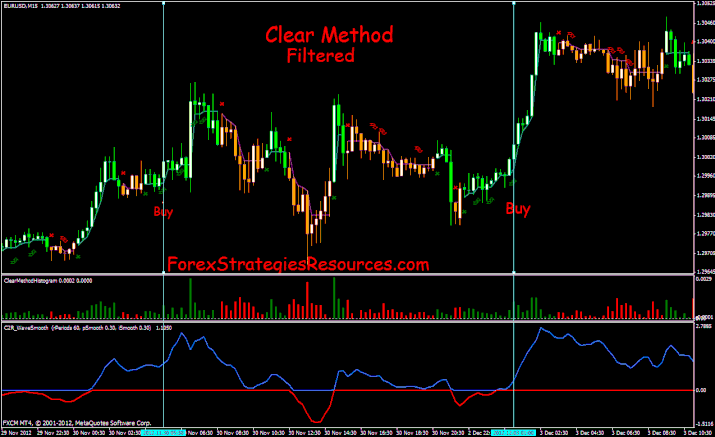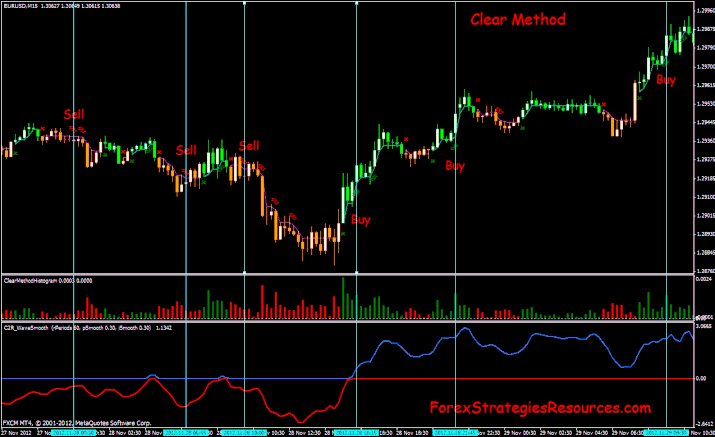 Share your opinion, can help everyone to understand the forex
strategy.

Platform: Metatrader4
Currency pairs: Any pairs, indices and metals
Trading Time: Around the clock
How to install MT4 indicator?
1. On the desktop, double-click to open the MT4 trading platform software you installed.
2. Click on "File" – "Open Data Folder" in the upper left corner, double-click the MQL4 folder, and double-click the Indicators folder
3. Copy the metrics you need to install to the Indicators folder
4. Open MT4, find "Navigator" in the display menu, then click "Technical Indicators" of "Navigator" and right click to refresh, you will see the indicator just copied.
5. In the "Technical Indicators" of "Navigator", find the indicator file just installed, double click or click manually to the chart window