Description
30 pips daily is a trading strategy used to wait for more volatile currency pairs. This is because this method requires a wide trading space to obtain the required profit margin.
If you'd like to earn 30 pips a day then this 30 Pips A Day Forex Trading Strategy is a trading system you can try out.
In order to trade this system, you need the following:
Can you spend about 1 hour a day at 1 of 2 specific times when the London and/or New York markets are open? (Midnight or 5am PST, 3am or 8am Eastern Standard Time – adjust for your specific time zone) Because trust me, that's all it takes to make $300. This can be expanded to $600 per day. Or more, without any more effort or time! I'm not trying to be a wise guy, but if you're not willing to invest so little time and a few hundred dollars in your future, you're wasting your time and mine, so let's be friends.
For newbies, learn how to trade Forex with the 30 Pips a Day system, which is easier, faster and less risky than any other business you've ever tried. In addition, I offer unlimited email support here to help you with any questions or problems you may encounter during this process. Here are a few of the trade images the system can generate each time.
30 pips daily Recent trades generated at the London and New York open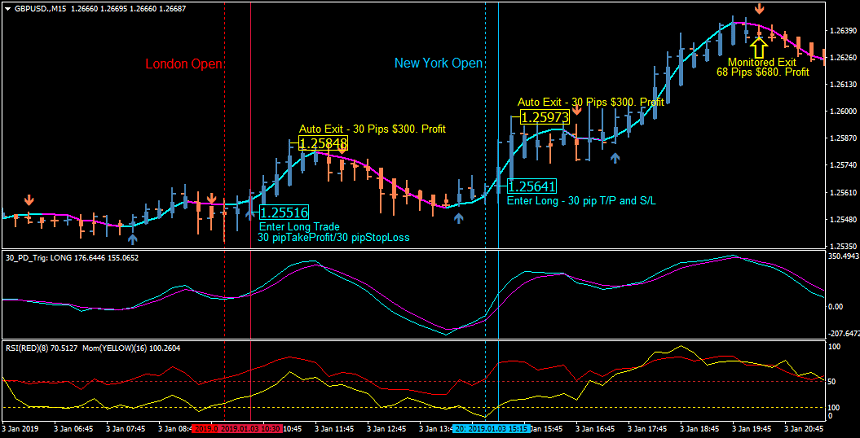 If you decide to monitor and get out of the robot, you will see an opposite coral alert arrow pop up about 2 hours after the trade starts, but the trend line does not change color completely, it is light green and coral, so you stay in and after about 3 hours you will leave me with a hollow yellow arrow in place.
You will be monitoring the trade for more than 5 hours. Now this is not what I designed the system for, but I know some of you like to do this, so I explained it.
One last thing I want to point out is that in the London trade, if for some reason you are late, the robot will not take you out for profit as I pointed out, but you will not even be close enough to your stop loss for the trade to continue and you will be automatically removed on the second candle after the New York open and still make $300. USD.
Ok, I don't want to bore you, so here are a few pictures of potential trades generated on other days or even eur/usd.
30 pips daily Another 2 GBP/USD winning trades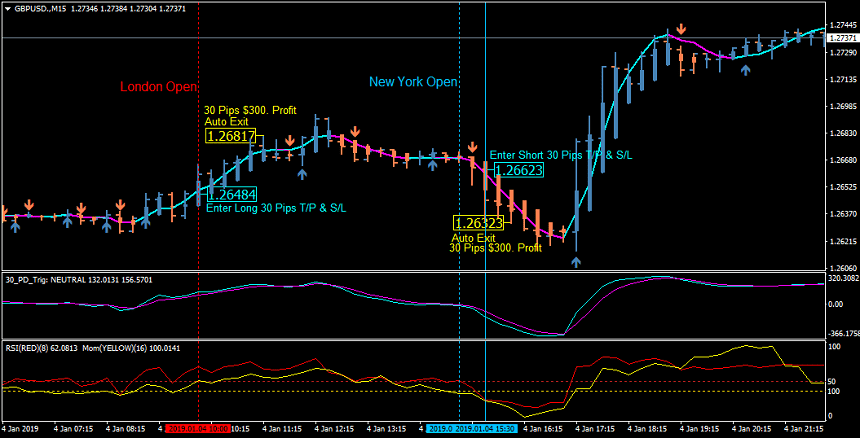 The winning long (buy) trade generated at the opening candle in London and the winning short (sell) trade 30 minutes after the opening in New York.
And two winning EUR/USD trades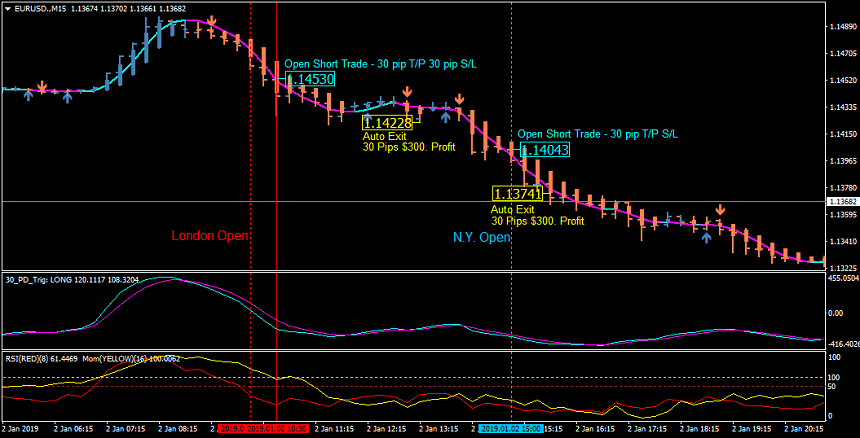 An alternative to the daily trading 30 point trading strategy
Once the candlestick enters the trader's action zone, note the bullish or bearish reversal candlestick as your buy or sell signal.
Then place a buy stop or sell stop pending order above the high and low, respectively.
Once your order is activated, place your stop loss order a few pips below the high/low of that reversal candlestick, but if you find it too close, then check to see if there is a recent swing high/low nearby where you can set a stop loss there.
Disadvantages of this daily 30 pip trading system
In a range or flat market, you will receive many false signals.
If you trade in the Asian session, you need to lower your take profit target to 20 pips, etc., because generally speaking, GBPJPY is not the same as trading in the UK and new trading sessions.
It is easy to reach your stop loss if it is too close, as the spread on the GBPJPY pair can be 3-4 pips, so when you set your stop loss using this system you should consider placing it where it will not be easily hit.
Advantages of this 30 pip per day trading strategy
The volatility of the GBPJPY forex pair means that it is easy to reach profit targets.
In a good strong trending market, this trading system will be very effective.